This blog will discuss some of the best models on the market, what features to look for in a good pair of steampunk boots, and ways you can decorate your boots to look more like the genre.
Men's Best Steampunk Boots
There are a number of different styles of boots that can be used in Steampunk clothing. Each has its own unique look, some more suitable for certain types of clothing. Here are three pair that would work for multiple purposes: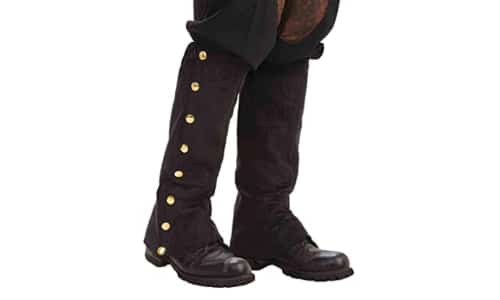 Novelty Suede Spats
If you don't want to buy new boots, but want to still dress in steampunk style, you can use these costume spats. This product comes in both black and brown and will fit most adults. While they are not created from real suede, the product still looks great and compliments any pair of boots or shoes, allowing you to wear something comfortable at the steampunk party or wedding. They aren't closed by the buttons, but by velcro. The product is for costumes and isn't high-quality. That being said, to keep them looking good for longer, you will want to wand-wash them in cold water.
Military Boots
These military-style boots by Bruno Marc are comfortable and durable. Not only would they look good as part of any steampunk wardrobe, but they can be used with modern attire as well, allowing you to incorporate small elements of what you love into your everyday life. The heel of the durable rubber sole will lift you about an inch above the ground and the artificial leather will help keep your feet warm and dry. The boot comes in several different styles and colors, allowing you to choose the one that is best for you.
Medieval Leather Boots
These medieval-style boots are perfect for several different cosplay ensembles. Combined with a trench coat and a steampunk top hat, you will look as though you just stepped off an airship and are ready to mingle. The boots are handcrafted from genuine leather, have rubber soles, and come with 4 straps with buckles and a padded insole. They are very comfortable and perfect for both standing and walking. The pair comes in multiple colors and sizes. They come with a 30-day money-back guarantee so you don't have any worries when purchasing the boots.
Steampunk fashion should incorporate a working time period and should be based on the Victorian Era. These gothic boots set the tone perfectly for many steamonas:
Caribbean Boots
Wayfaring adventures make up of the most well-loved niches of the steampunk genre. Whether you be the captain of a great ship or want to plunder one as a pirate, these boots will help you fill the part. They are synthetic (although they do look like they are made from worn leather) and can be adjusted a bit with the straps for a secure fit. The boots are comfortable, not being either too rigid or too soft. The boots are lightweight so you don't feel like you are being held down throughout your event.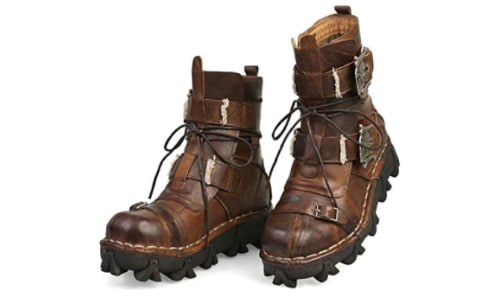 Gothic Skull Boots
These gothic-style skull boots come with skull-shaped buckles that will catch the attention of other people attending any steampunk party. While the shoes are durable, they are created for dressing up and not as work-boot. The weathered pattern makes them look as though they have been through many adventures both on and off the sea. Whether your steamsona is a pirate or you want to trek through the Amazon, these boots will fit the part. Past customers claim that they are extremely comfortable, though they are occasionally delivered in the wrong size.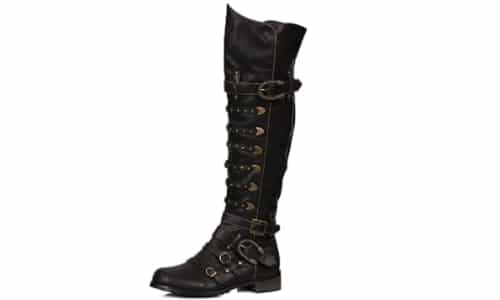 Tall Steampunk Boots
Occasionally a man just needs to have steampunk boots that almost touch his knees. If you are that man, these may be the boots for you. Not only do they have straps covering the shins, but they continue down over the foot, giving you some class whether you choose to wear the boot under or over your trousers. While they look to be made from real leather, it is faux. The buttons and clasps are also not as high quality as you would hope, but if you are planning on using them gently for a steampunk party or two, they may do the trick.
Industrial Steampunk Boots
Steampunk is a subgenre of science fiction that is set in the Victorian era. It is a highly colorful, whimsical, and imaginative genre that uses a lot of industrial elements. Here are three sets of creative boots that look as though they would fit the right persona:
Moto Boots for Men
These boots are durable and comfortable. They are made from genuine leather and have rubber soles. The stitching is real and they zip up on the side. The branding on the belt and buckle really set these apart in making them look industrial and as though they are worn by railroad workers. Although they don't breathe well (due to being made of leather), they are supple and don't need to really be broken in. They work well for both cosplay and with casual modern attire, making them a good purchase for more than one purpose.
Fabian Military Boots
These fabian military boots are comfortable and have a padded interior. They have been expertly crafted for durability and full ankle support. The shoe comes in a few colors and in multiple different sizes. The buckle on the back and the emblem placed into the boot give this product a steampunk feel, allowing you to have a comfortable shoe that not only looks for cosplay but can be worn in the real world as well. The company offers a money-back guarantee as well as a limited warranty on their product.
Renaissance Boots
While these boots may be marketed for the Renaissance, they also work well for the steampunk genre. The boots lace-up, not only making you feel as though you are actively dressing the part, but also allowing you to look it. You can make them as tight as you like. The boots are made of polyurethane and are easy to spot clean, making them a good choice for the adventurer who isn't quite as tidy as he would like himself to be.
How to Accessorize Your Steampunk Boots
If you have a regular pair of boots that you would like to "dress up" to be a little more steampunk-style, you can try some of the following ideas:
Chains

Adding chains to your boots is a quick way to dress them up in a steampunk fashion. You can also add charms to the chains or even find a way to dangle a pocket watch from them.

Cogs

Cogs are about as symbolic as they get. Whether you place them on your laces or attach them using hot glue, adding a few cogs here and there will make your boots look more mechanical.

Belts

Belts are like chains. Adding them to your boots will dress them up a little more and make them look as though they were snapped from a novel.

Charms on LAces

If you want to dress your boots up a little more, you can add charms based on steampunk icons to your laces. Whether you choose cogs, little octopuses, or airships, you can add as many as you like as it will only add to your overall look.