When you browse the internet for good, affordable clothes, there is the challenge of picking out the best from the rest because there are just too many options available.
Therefore, to make things easier, we have created this list to give you steampunk fashion ideas on what to wear for your next adventure–or just in the regular Saturday steampunk-themed party with the gang. Ready? Here we go!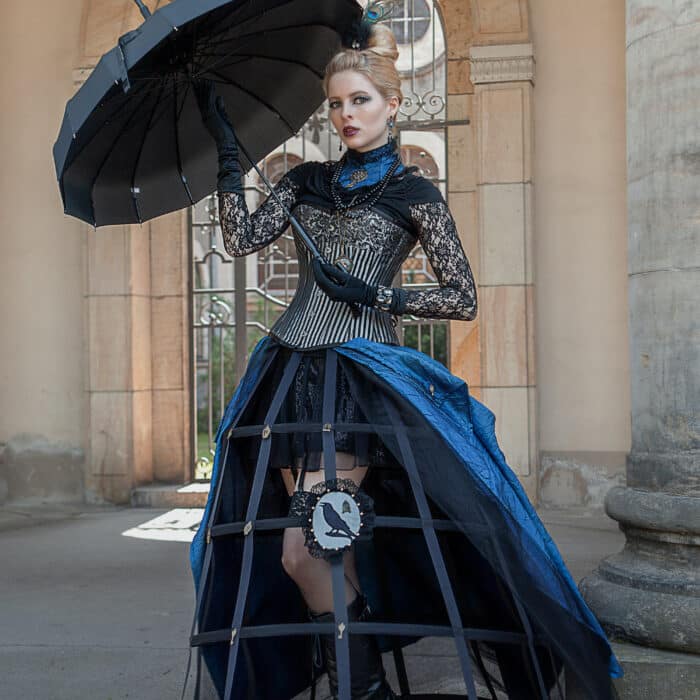 What to Look for in a Steampunk Dress
When shopping for steampunk costumes, we often look for Victorian-era-inspired clothes since this is the time period most of the steampunk aesthetic is based on. Remember those long, bell-shaped skirts that extends past the ankles combined with bodices with tight-fitting and often uncomfortable corsets underneath? Those are what you will see when Googling historically-accurate Victorian clothing.
Although those are the norm during the Victorian period, you don't have to follow this dress code strictly. After all, Victorian style is just one part of the equation to steampunk fashion. The other is the retro-futuristic and industrial aesthetic that the people of the past centuries envisioned what the future would look like.
Combine these two contrasting (yet complementary) aesthetics and you get steampunk. When planning for a steampunk dress costume, here are some styling pointers you can keep in mind to achieve the perfect look.
Neutral Color Palettes
Steampunk fashion is mainly made up of three colors: black, brown, and white. Add some cream or golden yellow, burgundy, steely gray, orange, and maybe a little of other colors like blue, pink, or green, and you get a more vibrant color palette that still fits with the steampunk aesthetic.
So, when looking for dresses to wear, keep in mind to get clothing with colors that remind you of brass, bronze, leather, steel, and coal–materials that are closely tied with steampunk style.
Lace, Leather, and Linen
Victorian clothing is famously known for its lace-filled dresses and accessories. From bodices and skirts to leggings, there is a high chance it's beautifully decorated with lace.
Leather is another commonly used material in steampunk clothing, albeit they are more usually seen in pants, vests, jackets, coats, and other more "masculine" fashion pieces. However, there are still other great uses for leather or faux leather in steampunk fashion, mainly made up of dresses, such as leather suspenders, belt bags, and accessories.
Linen bodices, shirts, and dresses also fit the bill. Get one that is either white, off-white, or cream-colored.
Layers, Starting From The Base
Again, looking into Victorian fashion will give you ideas on what to wear for your steampunk costume. Victorian clothing for women are notorious for having multiple layers, starting from the chemise to the petticoats, to the skirt. Not that you will need all of them, but having a few layers will add more depth and details to your costume.
Classic + Industrial + Your Own Aesthetics
As you know, steampunk fashion is a fusion between classy and ornate Victorian aesthetics and the practical developments brought by the Industrial Revolution in the 19th century.
The beauty of steampunk aesthetics is it will let you use your creativity to the limit to combine these two seemingly contrasting concepts. When creating your steampunk costume, for example, you can add "industrial" accessories to your Victorian-dress, say gears or a tiny piece of metal equipment. It doesn't stop there, too. You can even combine styles borrowed from Gothic and medieval fashion to enhance your garb. If you want, you can make a backstory on how it came to be in case some people will ask you about it.
Don't Forget Your Accessories
When setting up your steampunk costume, remember to add accessories such as:
Cinder goggles, worn around your neck or sitting atop your head/hat
Compass, stopwatches hanging around your waist
Gears and keys
Bags, belts, parasols, and other everyday items
Decorative artifacts, equipment, or weapon
Any Victorian costume will be enhanced with those abovementioned articles. Of course, pick ones that suit your taste or chosen style.
If you have any old clothes lying around (probably an heirloom or something you impulsively bought from a flea market), you may be able to use them in the costume. By making some changes to the dress and adding some accessories, you can get fantastic steampunk clothing that is uniquely yours.
Buying clothing online can save you time and energy, however. Some of the most affordable places to buy steampunk costumes are Amazon and Etsy, where they have a wide array of clothing options. The price of steampunk clothing can depend on how many articles you wear. It will also depend on the shop you choose to purchase costumes and trinkets from.
Since browsing for clothes in these stores can take a lot of time, we made a list of the best dresses you can buy in these stores, which you can read later in this post.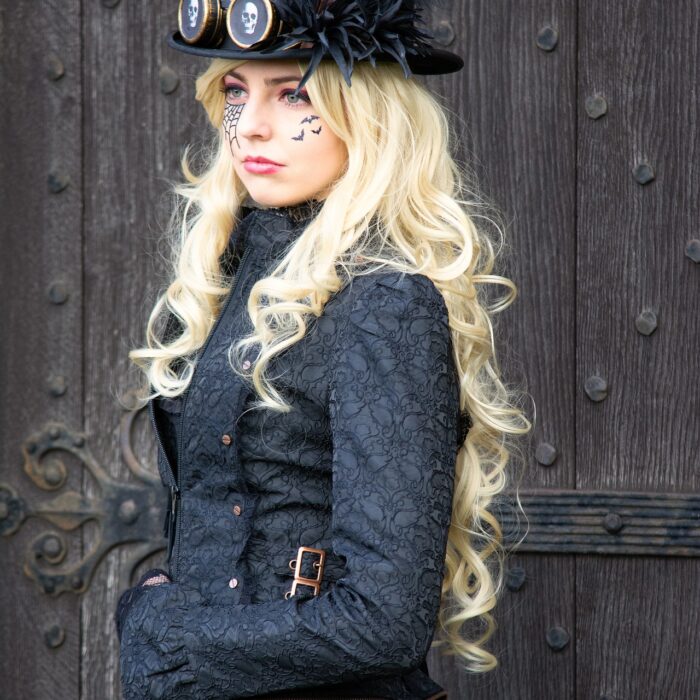 Before we jump into the list, take a look at these Instagram accounts that features steampunk dresses for inspiration:
Classic Steampunk Dress

Steampunk Cosplay by polar.pillow22

You'd probably recognize this steampunk look because it's the classic style that many prefer to go for when dressing up for their steamsona. And there's a good reason: this style which is the combination of Victorian-inspired clothing (bodice, skirts, and corset) and iconic accessories (brass gears and metal parts), just embodies the steampunk aesthetic.

Green Aviator Steampunk Dress

Steampunk Cosplay by rufflesandsteam

This vibrant steampunk garb sports the color emerald green–which is a bit unusual for steampunk. However, in this case, the colors and the outfit were put so well together that it would be a waste not to include this on this list. Oh, and can we all just look at the adorable wings on the costume?

Gothic Steampunk Dress

Steampunk Cosplay by voyagesteampunk

A lot of people love to incorporate Gothic elements into their steampunk dresses, and the one below is absolutely one of our favorites. The combination of the all-black outfit and the scarlet hair color made the steamsona depicted here look so badass.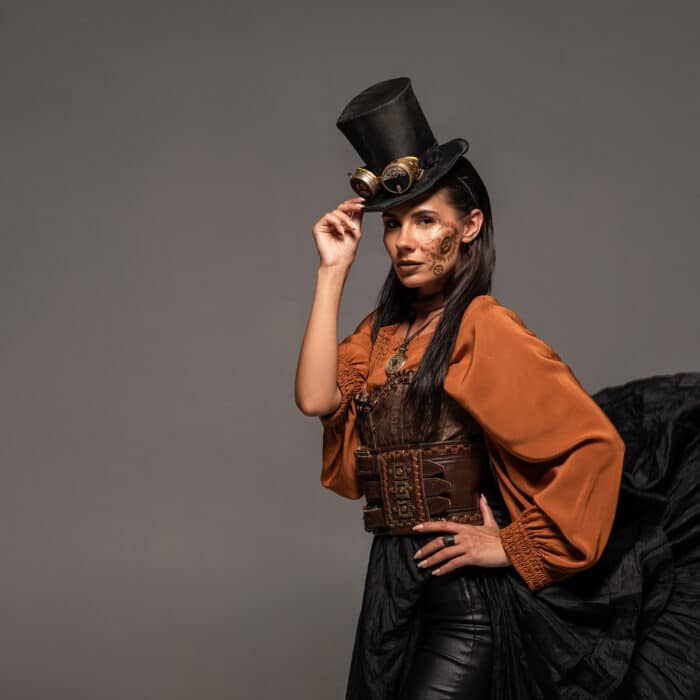 Ready to get your own steampunk dress? Here are some of the top finds around the internet:
Mad Hatter Inspired Look

Mad Hatter Inspired Look – Steampunk Dress Inspiration

Although not specifically described by its maker as a costume inspired by the Mad Hatter character from Alice in Wonderland, one look at this piece would remind you of the eccentric yet iconic children's book character. The book is also published in the Victorian era, so it fits the bill perfectly. By adding a few more steampunk elements here and there, you can make your own version of a quirky and charming character.

Gothic Princess

Gothic Princess Look – Steampunk Dress Inspiration

If your steamsona is fond of dark ruins, abandoned castles and tragic romances, they will probably appreciate a gothic-inspired steampunk costume. Look no further than this all-black and ornately designed costume set. It will certainly turn some heads to your direction in awe and admiration.

All-Around Outfit

All-Around Outfit – Steampunk Dress Inspiration

You can't go wrong with the classic: a three-piece costume consisting of a top, corset, and skirt. Whatever your steamsona is–aviator, inventor, or pirate–this dress would surely be a suitable choice.

Pirate Empress

Pirate Empress

Is your steamsona a swashbuckling adventurer who travels the seven seas in search of long-lost treasures? This three-piece costume set made of leather, an off-white top, and lace will surely help you rock the look you want.

Elegant and Dangerous

Elegant and Dangerous – Steampunk Dress Inspiration

If classy and elegant costumes are your cup of tea when it comes to steampunk dresses, then you should definitely check out this dress. Consisting of a satin corset and damask bustle skirt, it will certainly grab anyone's attention.

Villanous and Mysterious

Villainous and Mysterious – Steampunk Dress Inspiration

Aiming for a more badass, cool look for your steamsona? This long gothic coat is for you. It comes in two colors: scarlet and black. For vampire hunters and villains, this clothing should definitely make your list.

Badass In Leather

Badass In Leather – Steampunk Dress Inspiration

Hark! Pirates, aviators, explorers, hunters–or just about anyone who is an absolute badass in their field, take a look at this new clothing that we are sure would be perfect for your next adventure: a corset dress made from leather and cloth. It also comes with a pocket, so you can store spare change you nicked from unsuspecting shipmates or tavern drinking buddies.