This post will cover some of the greatest steampunk novels of all time:
Classic Books of the Steampunk Genre
Here are a few older books that were written in Victorian times that many people consider to be part of the steampunk genre:
1. The Time Machine
Written in 1898, The Time Machine follows the inventor of the rather plush time machine of the title as he takes it into the future. There he hangs out with the blond, blue-eyed hippies called the Eloi, who mainly wander around doing nothing. Except occasionally get caught by the ugly Hell's Angel-like Morlocks, who live underground. Before long the Victorian gets pissed off at both groups and eventually hightails it back to his own time. 
2. 20,000 Leagues Under the Sea
Jules Verne was writing even before Wells, and he had the gall to not even be an American! So everything he wrote had to be translated from the French, but it was still hot stuff. Twenty Thousand Leagues Under the Sea, The League of Extraordinary Gentlemen (he seemed to like the word "league"), Around the World in Eighty Days, etcetera.
Most people know the name of the submarine the Nautilus and its captain, Captain Nemo. Anyhoo, some naval men jump on top of the sub thinking it's a big whale and instead is brought below by the captain. They travel around the world to the tune of twenty thousand leagues-worth, but the guests, more like captives, escape in the final reel. With more hi-jinks and tales of derring-do in his other books.
3. Sherlock Holmes
Any of the Sherlock Holmes stories by Arthur Conan Doyle are certainly within the timeframe. Plus no phones, no lights, no motorcars, not a single luxury…wait, that's Gilligan's Island. But Sherlock had to make do with a magnifying glass, a study of cigarette butts, and copious injections of cocaine. And he couldn't just go to Party Time stores to get his various outlandish disguises. Fortunately, he had Dr. Watson with him so he could frequently make him the target of casual putdowns. To which Watson would reply, "No shit, Sherlock?"
Books of the Steampunk Genre
So the above are just a few of the accidental steampunk novels. The on-purpose novels started in the 1970s, when writers liked to reimagine what life would have been like in Victorian times if they had taken steam power much further, along with lighter-than-air power and any other inventions that didn't involve electricity or gas-powered engines.
4. Morlock Night
One of the first titles to be called steampunk is Morlock Night, by K.W. Jeter, published in 1979. It involves those Morlocks I mentioned just a minute ago. But what if, what if, they were able to swipe the time machine and wreak havoc in Victorian London? Well, they would wreak havoc in Victorian London.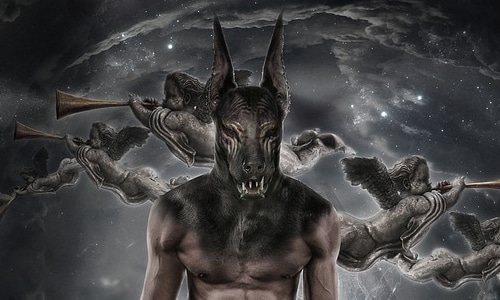 5. Anubis Gate
Remember how the Victorians owned everything in the world back in the day? The book The Anubis Gate by Tim Powers tells how some Egyptians are trying to get rid of the Brits and call on the god Anubis, which has the unintended result of ripping a hole through the space/time continuum. As happens. The hero uses the gate to go back to merrie olde 1810, where he is kidnapped and unable to return to his time. Well!
6. Homonculus
Weren't we also just talking about airships and dirigibles? Homunculus by James Blaylock, is all about one that just hovers over Victorian London for years. Who's the pilot? Why, a skeleton of course! Naturally, a cast of weird characters has a burning desire to steal the airship, although it does finally land with the predictable commotion and chaos as a result. Fun times for everyone!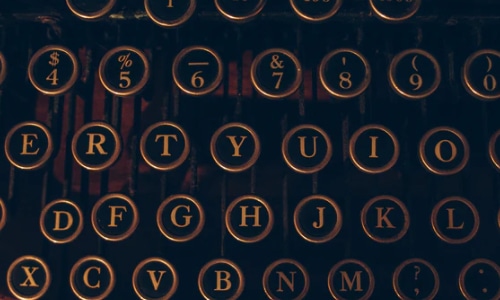 7. The Difference Engine
Since steampunk is concerned with the past, no computers are allowed, right? Wrong. In fact, the first stab at building a computing machine was by Charles Babbage way back in the 1820s. He didn't quite succeed, but that didn't stop authors William Gibson and Bruce Sterling from imagining that he did. In The Difference Engine, the computer worked with far-reaching consequences for everyone, and with a bit of skullduggery concerning the punch cards thrown in.
8. Boneshaker
Do you know what's all the rage right now? Zombies, of course! So why not have zombies terrorizing Victorian-era Seattle? Why not indeed, thinks Cheri Priest, who wrote Boneshaker. The title sounds like a skeleton with palsy, but it's actually about a drill that releases a poisonous gas that turns Northwest folks into the walking dead. The big hole the drill made is capped off, but of course, years later, a person just has to go back in.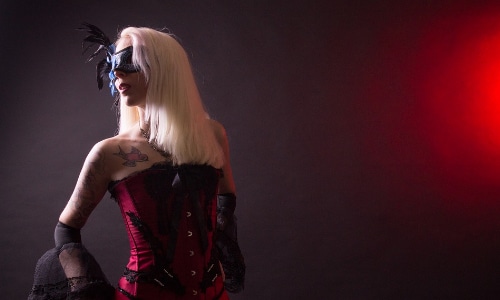 9. Soulless
Alright, we've covered zombies, but now you're thinking, what about vampires? In Soulless, by Gail Carriger, we find a lady who has no soul (or rhythm either – haha, joke!). She's mighty handy with a parasol and accidentally kills a vampire (oops!) which in turn makes Queen Victoria send out her werewolf hunter to see what's up. Because a lot of London vampires have gone missing. So what is up?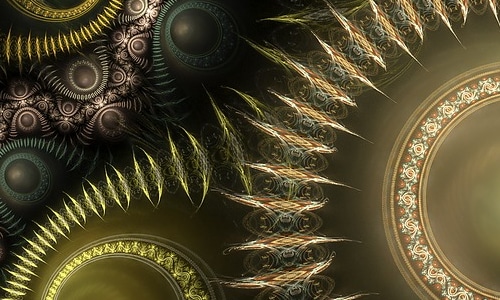 10. Perdido Street Station
And speaking of magical things, the book Perdido Street Station by China Mieville, combines steam power with creepy bad magic. The city is full of corruption, mutant creatures are all around, and there's even a family of monsters held in captivity by the bad guys because their milk is hallucinogenic and a great street drug to sell. Suffice it to say, they are freed and proceed to terrorize the city (because they also feed on peoples' minds). Not exactly the story to read to your children before bed. 
11. Retribution Falls
We first mentioned dirigibles at the beginning of all this. So where are they, you rightly demand? Right here in Retribution Falls, by Chris Wooding. Our hero, up to no good as usual, flies around in his airship with a crew of ne'er-do-wells, doing a little of this and a little of that. But then a freighter chock full of valuables is blown up, and the law is after them, our loveable pirates! Now they have to avoid the law and find the real culprits, with plenty of battles thrown in for good measure. 
12. The Half-Made World
How about a Western? After all, those wild west days all occurred in the Victorian era, too. In The Half-Made World by Felix Gilman, we find two opposing sides in an ongoing conflict. There's the Line, which has cool weapons and railroads, and the Gun, which has that old standby, fear, and violence! A crazy General knows the secret to stopping all this nonsense. Only one problem – he's crazy. He's kidnapped and there's plenty of action before he can spill the beans.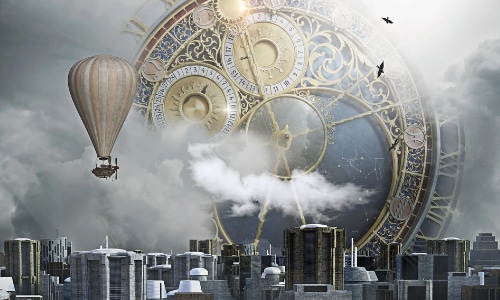 13. Against the Day
Finally, how come we haven't mentioned any famous authors? Actually famous. Well, try this on for size – Thomas Pynchon! Now we're cooking with gas! However, like all famous authors, he's half-crazy, too, and trying to get through Against the Day is hard going. It's about, hmmm, well, it's all over the world, and there's a cast of hundreds…it's kind of about these three sons….no, never mind. But it does take place in steampunk times and at over a thousand pages, ought to keep any reader out of trouble for a while.