Steampunk Alice typically meets a few criteria in order to be recognized, though you can always bring your own spin to the character. While she typically wears a blue dress, has long blonde hair, and a wide-eyed innocent look, you can mix and match her elements with steampunk regalia or inspiration from other characters in the story, such as Steampunk Mad Hatter.
Here are a few stylistic choices you can make when creating your own cosplay version of Alice and Wonderland. Mix and match different elements for something unique. Here are eight different categories that make up the costume elements of Steampunk Alice in Wonderland: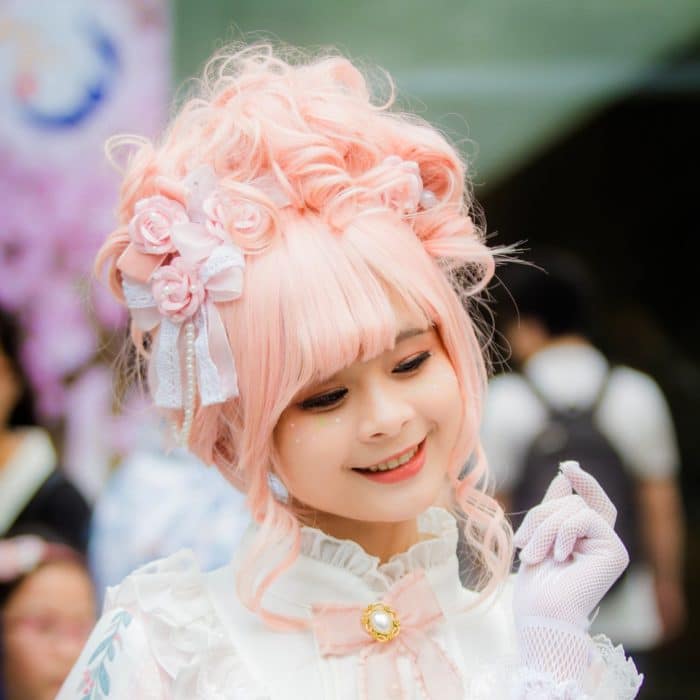 While Alice is known for the black ribbon in her hair (thank you, Disney), you can modify her headwear to reflect the steampunk style quite easily. That being said, feel free to make the nod to the black ribbon or accessorize it with steampunk icons or charms.
Look for a top hat, miniature top hat, or a headpiece in the shape of a teacup. You can also use steampunk-style goggles for a look more in line with the genre.
Alice in Wonderland Dress
As I said above, Alice is typically seen as wearing blue, though you can wear whichever color you wish. Try to have a little "poof" in your dress, though the length can vary depending on what you want your overall aesthetic to be.
There is a spectrum of Alice dresses or skirts you can choose ranging from traditional to abstract. Look for one that can go well with other elements in the costume that will appear more steampunk.
While a corset isn't one of the first things you may think about when it comes to Alice in Wonderland, they are typically a part of a woman's steampunk cosplay. You can add belts and other accessories to these to build out the look and solidify the look.
While blacks or browns would more match the steampunk look, using a white corset over a blue dress may reflect some of the original innocent looks of Alice's apron. The choice is ultimately up to you.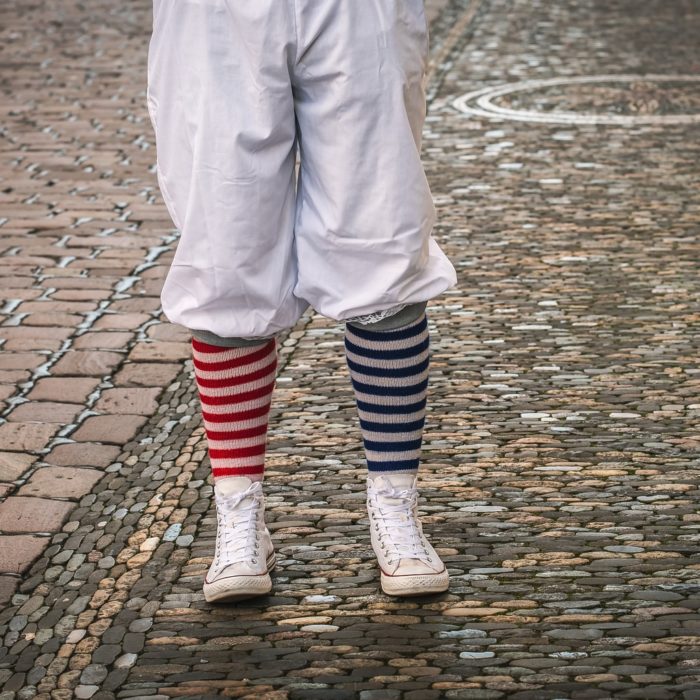 Long Victorian stockings are common with both Alice in Wonderland costumes and steampunk cosplay. Choose white stockings with ribbons or striped socks that go above the knees. While they definitely not the main piece of your costume, they can definitely make or break it. Plan both your stockings and your shoes with care.
Nothing screams Victorian fashion quite like lacy gloves, and in my opinion, Steampunk Alice should have her own pair. If you are worried about getting the tips of your fingers dirty, you can use fingerless gloves for a similar effect. Use ribbon to add charms or cogs to the cuffs of the mittens for a bit more steampunk flair.
There are several accessories you can use when setting up your Alice in Wonderland costume. Many things from the story naturally have a steampunk look to them, allowing you to be extra creative.
Bake small cakes or cookies that say "Eat Me" to put into a decorative box, or carry around a bizarrely shaped tea kettle. A pocket watch will help ensure that you won't be late and a large portrait (card) of your arch-nemesis the queen of hearts would add the perfect touch.
When it comes to jewelry, you can either pay homage to the Disney character or find trinkets that match elements of the story and the steampunk world. Put a small pocket watch or old key on a chain around your neck or add charms to a bracelet that are reminiscent of the story.
Choosing your Alice in Wonderland shoes can be a lot of fun. Mary Janes, lace-ups, or heels designed around the Wonderland universe are all great choices that will add to the outfit overall. Make sure that the shoes match the rest of your outfit.