In any case, creating a steampunk coffee machine is a great opportunity to show off your design skills. With enough steam gauges, handles, wheels, and levers to power a World War I submarine, the simple act of making a cup of joe can be an Oscar-worthy performance in itself.
Step up to the bar and order a stiff latte, then slide over and brew it with the finest coffee known in these parts. Fortunately, many bar counters still look as though they came from the Victorian era, allowing you to find something that will fit the genre and your home. 
Want your friends to stay or not? If the latter, make the seats out of gears and cogs or bicycle rims. However, if you're more forgiving, some industrial bar stools of wrought iron with nice tuck-and-roll seats. Or for the very creative, wooden wine vats cut in half, and clad in leather are the cat's meow. Don't neglect simple bar stools made of a metal pole and four legs with a wooden seat, just the thing to keep your friends on edge so they keep a weather eye out for problems.
You might build the machine around an upright cylindrical case, adding as much copper tubing as you can get your hands on. Plus a dizzying array of the afore-mentioned wheels and gauges. A simple coffee maker can be hidden within. Or repurpose a Victorian cash register, making a prep area where the cash drawer comes out, and adding levers where the keys once sat. Best for making lattes. Another idea – get a tall metal container (do you have any used howitzer shells lying around?) and adding a dome on top. Use metal tubing for connections, and add small trays made from steel sink drain stoppers, or even dentist spit bowls for extra class.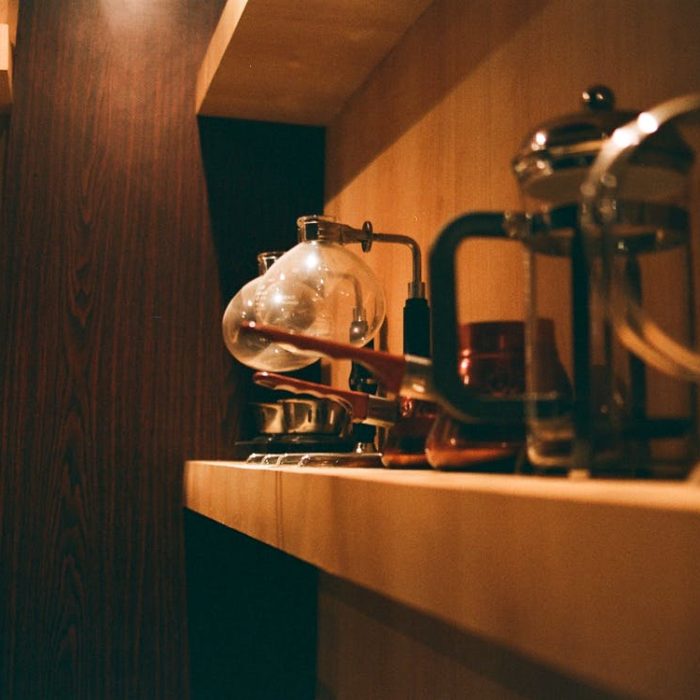 The back of the bar is the perfect place to store drinks, and also show off the personality of the place. Perhaps a full mirrored wall for those who need to look at themselves. Oh vanity, I feel thy sting! A wall of copper can be the setting for a veritable spaghetti junction of pipes and tubing. Beaten copper ceiling tiles set off with brocade wallpaper is perfection itself. Include glass shelves to hold the coffee neatly sorted into jars and the finest Torani flavors. 
There are many mugs to choose from when offering drinks. You can find these ceramic masterpieces by finding the potter at your local open market. For extra points, you can study as his apprentice for seven years then make your own. For a final flourish, the inside bottom of a cup should have the words "You've Been Poisoned" emblazoned in a lovely script.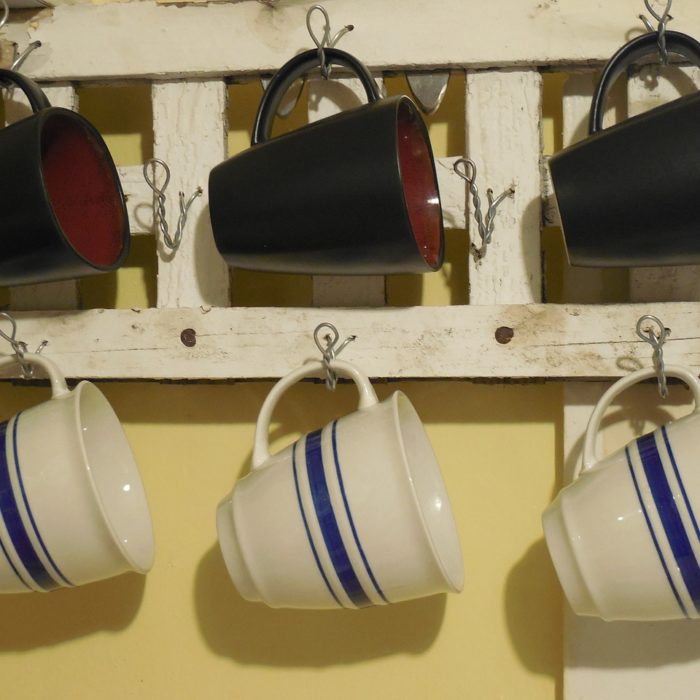 No coffee bar is complete without a place where you can safely store and display the important vessels used to caffeinated yourself. Find industrial pipe or wooden racks, possibly one that lights up to create a functional, yet appealing art piece.
When feeding your friends at your bar (those freeloaders!), a dish featuring (what else?) cogs and wheels on the rim show you at your best. Some bowls can be made of leather, with plenty of steel bands, hooks, and locks to keep them together. Serving dishes that are souvenirs of places you've been, like "Doctor Amazon's Flying Carpet Emporium Extravaganza" show you've been going places (literally).
Get your filthy mug off my counter, you bounder! You may have to say this if the person isn't using a coaster. There are plenty to choose from, with clocks and cogs imprinted on them. How about coasters made from slivers of agates and other colorful stones? Even better, with small ancient fish skeletons. Or for the more scientifically-minded, slices of anatomical specimens in Lucite. Classy!