If you want your next steampunk outfit to really pop, check out the hairstyles and beards in this article, and step up the way you represent steampunk culture.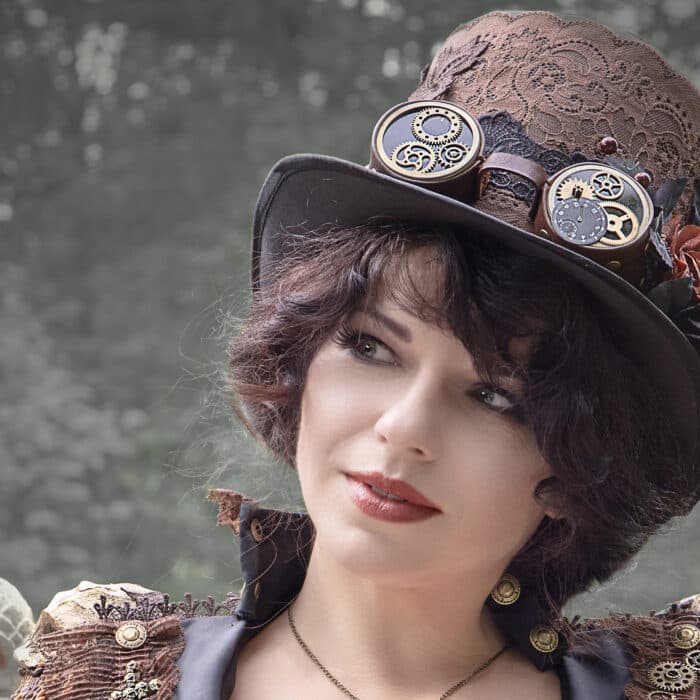 Inspiration Behind Steampunk Hair Styles
Steampunk fashion is based heavily on Victorian-era style. Hairstyles tend to be variations on trends from that time period. These Victorian-era ideas are combined with modern and post apocalyptic concepts.
Victorian fashion was very often flamboyant and flashy. This leads to steampunk hairstyles, beards, and mustaches to have a slightly quirky and sometimes cartoonish look to them.
The "steam" in steampunk refers to steam-powered technology and machinery. You will often see pieces of this type of technology prominent in steampunk hairstyles like a hairpiece or goggles.
Steampunk Hairstyle Ideas
Below are some popular steampunk hair styles you can search through to find the one most relevant to your desired look. Whether you want chic or rugged, there's bound to be a style for you.
Steampunk Hair Styles For Long Hair

Popular hairstyles for long-haired women in the Victorian age included lots of curls. This style, when combined with fancy hats, make for an amazing steampunk look.

Another hairstyle that pairs well with some steampunk goggles is to keep it simple. You can never go wrong with straightened long hair and a cool accessory.

Braids and pigtails can be incredibly beneficial for keeping your hair out of your eyes when tinkering with a steam engine.

This style is perfect for keeping your hair safe from the wind on a motorcycle ride.

Or, put your hair up for a distinguished, classy vibe.

Long hair isn't just for the ladies. Men can create a perfect, effortless, steampunk look with just a simple part.

Shorter Hair Steampunk Hairstyles

Curls and waves aren't just for long hairstyles. If you like to keep your hair above your shoulders, keep it loose with this wavy bob cut.

Maybe you're looking for a more military style. A hat with bangs styled across your forehead is perfect for maintaining that image.

Or, keep it simple with short straight hair and a fun top hat.

Of course, most male hairstyles tend to be shorter. A great steampunk look for men is a distinguished, natural look.

Or, you can go wild with a crazy style to really tie the look together.

Shaved Hair Steampunk Hairstyles

A steampunk environment isn't always the best for a fancy do. Sometimes the best thing with all that steam and soot is a shaved head. And shaved hairstyles aren't just for men. As a woman you can achieve a feminine steampunk look.

Steampunk Beards and Mustaches

Men can achieve a great steampunk vibe with beard and mustache styling.

A fancy mustache curl can make your steampunk outfit really pop.

Or, keep it rugged and natural, whether you're in uniform or out for a night on the town.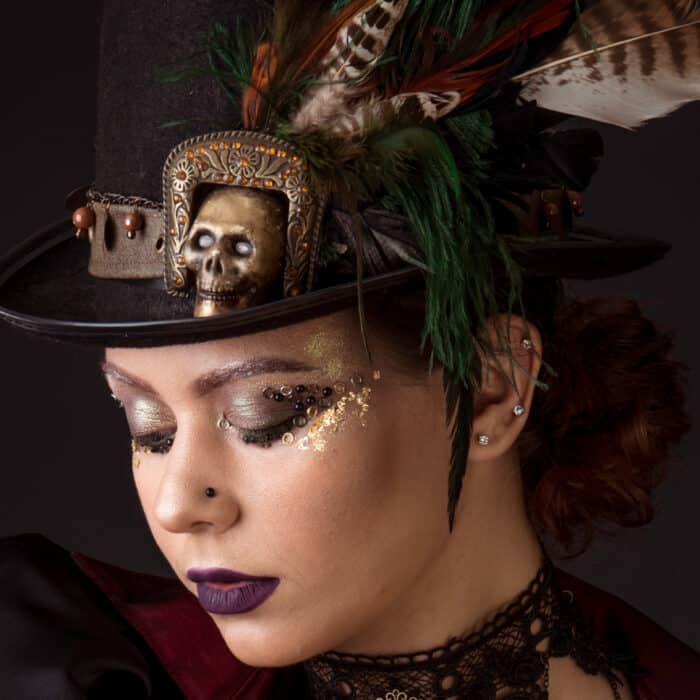 Steampunk Hair Accessories
What really makes a steam punk hairstyle work is the outfit and accessories. Mixing Victorian-era style with modern technology will help you deliver the look you want.
As you've probably noticed, top hats are among the most prevalent accessories. These hats can come in a couple different types. You'll see large top hats that cover the whole head to statement piece hats that function more like decoration.

Steampunk glasses can also accent your hairstyle choice. Victorian-style circular frame glasses are perfect for this.

You can also make a statement with a pair of riding goggles.

Victorian era fashion was full of feathers and flowers. Wearing a hair ribbon, clip, or pin to hold a bun or braid in place is a fun artistic way to make your hairstyle steampunk.
Clothing Accessories
While not worn on the head, choice clothing items can accent a hairstyle really well.
A corset can instantly make an outfit feel more steampunk.

A nice pair of strapped boots can also give you the steampunk look you're after.

To go with your fancy steampunk suit, don't forget your pocket watch and cufflinks.