The steampunk genre has a way of taking us from the real world to another universe. While you can enjoy these interdimensional travels through literature and film, adding a few accessories or jewelry items to your collection can help you carry a piece of that feeling with you, even in our current universe.
This post will give you an overview of the type of steampunk-inspired jewelry that is currently available in this dimension.
Whether they be long clusters of working gears or simply vials of oil (or blood), every steampunk fashionista should have two, three (or even twelve!) pairs of earrings to help offset the fact that they have earlobes (unsightly things).
The type of earrings you choose should be reflective of your overall style. They don't necessarily have to showcase steampunk symbology, but they should accentuate the rest of your apparel. Fortunately, there are many steampunk earring options available and even if you can't find what you're looking for, it is generally easy enough to craft your own.
Bracelets can either be subtle or boisterous accessories (much like personalities) and steampunk stylings should be no different. Try to match the base colors with the other accessories you wear (such as your goggles and pistol), but the rest can stand out as the statement they should be.
You can also work on creating your own accessory by starting with a simple charm bracelet and slowly adding charms to it after each ballooning adventure. Remember the time you rode those elephants or fought that sea monster in style!
There is nothing more important in a dangerous situation than covering up an exposed throat. So whether you are trekking through an Amazon rainforest or have to give a speech to a group of your close friends (the jury is still out on which is most dire), a necklace or choker is essential to your survival.
Fortunately, there are several glorious options for the steampunk aficionado that range from simple to ornate. Whether you choose a simple icon that hangs from a simple chain or a group of vials that store the specimens you have gathered on your travels, you are sure to find something you love.
Every adventurer knows the importance of time (as well as knowing when the next airship will leave the station). If you don't have a pocket watch or another type of timepiece, you should find yourself one in a timely manner.
A pocket watch is the epitome of a steampunk fashion statement. Whether you are a train conductor or simply an inventor of new and glorious contraptions, you will be to increase your efficiency. As a bonus, you'll be able to meet the other philosophers on time!
Oh, the glory of a perfectly fitting ring. Whether you want one with ancient mystical powers or simply want to show another person that you care for them with undying love, these cylindrical finger pieces can be as over-the-top as necessary.
The nice thing about rings is that you can wear them on every finger, bringing out the PUNK in steampunk. Whether you go with the same ring on each finger (and maybe those toes of yours?) or choose a different setting for each, you are sure to keep things stylish.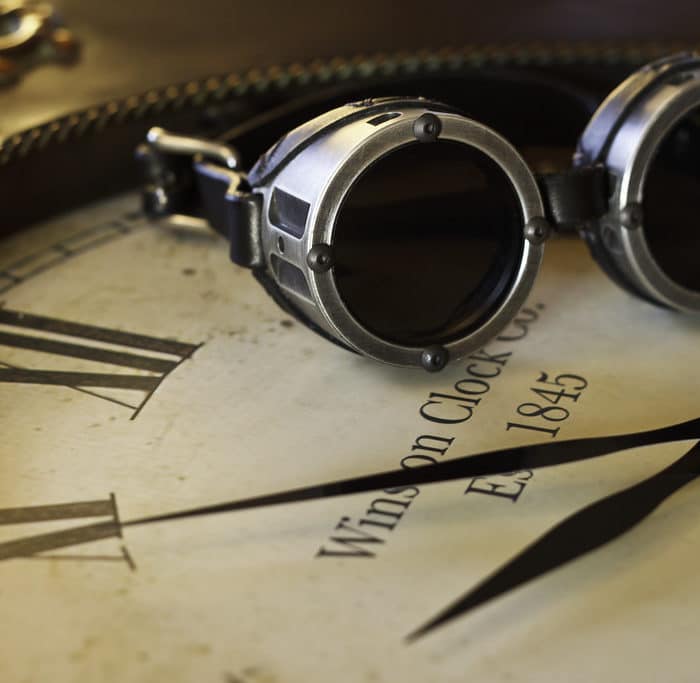 Whether you are pouring through travel logs plotting out your next adventure by train or traveling by camel through the scorching sands, you know the value of a good eyepiece. Whether it is a monocle for one eye, goggles to protect you while you soar through the sky, or kaleidoscope glasses while you feel high, there are steampunk glasses for every occasion.
Seriously though, you can find options that range from slightly upscaling your casual wear to goggles that will match a steampunk costume for Halloween (or your best friend's wedding). Adjusting to steampunk life can be as dramatic as you wish it to be.
Nothing screams "Victorian Jewelry" like a good ol' fashioned brooch. Fortunately, for the industrial-conscious, there are dozens (if not thousands) of options available. You don't even have to rely on costume jewelry either as you can often find suitable pieces at your local antique or thrift shop.
Look for pieces that match your other accessories or have imagery relating to the steampunk universe. Silhouettes and anything nautical seem to work well with anything. Once you find a few pieces, you will be able to accessorize everything from your shirt to your top hat with them, making them even more one-of-a-kind.
For the fancy folk who like to paint the town an appropriate steampunk hue of red, cufflinks are the crème de la crème, an over-the-top nod to the industrial universe.
While any cufflinks will do, choosing those that display cogs or other icons of the genre will help them stand out. Much like the other jewelry on this list, you can choose to be as simple or as elaborate as you choose.