This post will give you several general ideas on how you can steampunk your kitchen whether you are building, remodeling, or accessorizing.
A well-stocked pantry should contain all the essentials need for adventuring or even staying at home. So what do you need to keep on hand? Jellied eels come to mind. Nothing says good eating more than eels in their own gelatin. Mmm-boy! And to go with that, why not some bloater paste? Which was cured herring with all the delectable guts intact. Let's not forget the makings for flour soup. The pantry should have flour, butter, and some seeds. Add water and that's soup!
The pantry can also be the place where raw meat is kept on a slab of some type, with certain types of stone being the coldest. Too much time on the slab could turn your meat dangerous. Poor people even had to make do with meat called broxy, which was mutton from a sheep that died of disease!
The pantry should also be stocked with glass jars featuring those airtight lids with that spring-loaded mechanism that makes them nearly impossible to open. Plus plenty of crockpots. Not the slow cooking kinds! I mean, pots made out of crock, sealed with wax and holding who-knows-what.
If you have wall space next to your pantry, consider installing a sliding barn door instead of a traditional pantry door. You can find barn doors that look old and rustic that will set the tone for the rest of the room. In fact, you can use decorative clavos (rounded nails) and hinges on your pantry door as well as other cabinet doors throughout your kitchen.
Inside your pantry, line drawers and shelves with Victorian-style paper to add a little more authenticity to the room. You can also use lining paper that resembles old newsprint. You can also paint steampunk icons on shelves or your walls as an alternative.
Functionally speaking, you will need to store food in your pantry. Where you can, use safe-for-food canisters or boxes to store four, sugar, sauce packs, etc. You can also transfer spices into an older style.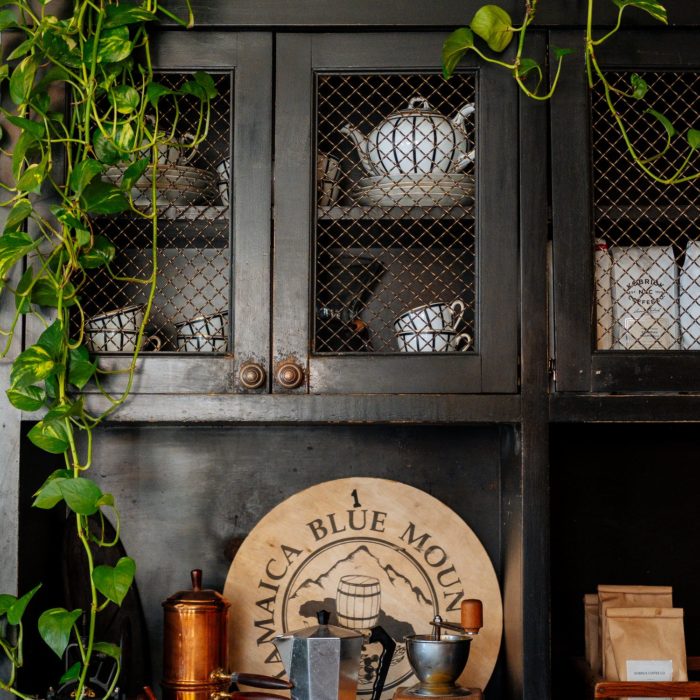 Steampunk Kitchen Cabinets
A kitchen without cabinets? You make me sick! How else to show off your plates and dishes? Especially if their designs show that they came from far-flung places. So cabinets with glass fronts are perfect for snobs. Or how about a combination of regular cabinets with a few pie presses thrown in? These are cabinets with the front covered either in a screen or punctured by tons of holes, to let the pies breathe. Oh, they aroma! Hey! Get your filthy mitts off my pies! Or maybe just re-purpose library shelves. After all, who has the time or ability to read books?
Whether you are installing new kitchen cabinets or want to redo your own, you can stylize them in a steampunk fashion. You will want to decide whether you want a dark kitchen with lighter elements or a light kitchen with darker features.
If you use dark cabinets (such as dark brown or black), make sure that you pair them with a light-colored sink and walls to keep a light balance in the room. If you choose to go with light cabinets (cream to light brown or gray), add darker elements. Build the cabinets tall if you can, though you should leave some space between the top and the ceiling for steampunk art or anything that resembles Victorian culture.
Use copper or brass colored handles and hinges. You can also add detailing around each cabinet. If replacing or installing new cabinets, consider adding some glass-paneled doors to some cupboards, then adding subtle lighting inside the cabinet. This works well with cabinets that hold your china and glasses. Add a few steampunk art pieces in these same cabinets.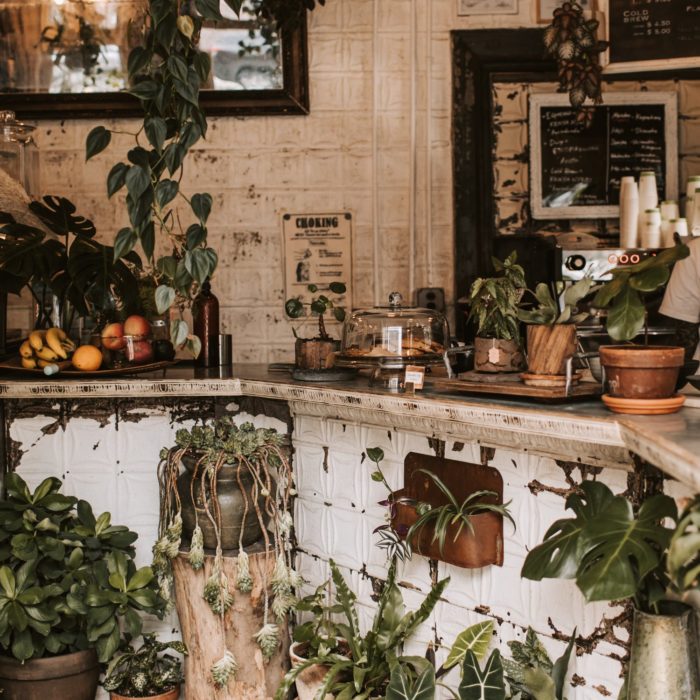 Steampunk Kitchen Counters
Well, obviously, obviously, none of this cheap Formica stuff will do. For one thing, it wasn't around in steampunk days, and for another, gaaah. The well-appointed kitchen will have counters made of sterner stuff, like marble, or copper. Even better, what about marble that has lots of dinosaur bones embedded in it? Or would that be shale? Granted, you could conceivably use granite, too.
Dark wood or metal countertops on top of custom wooden cabinets can add the perfect touch to your kitchen. Using the right notions can keep them in style. If you choose to go with marble countertops, try to choose a darker brown or black top.
Kitchen islands are a great way to add some style to your kitchen, especially if you have enough space to add 2-3 barstools on one side. Use wood paneling and styled drawers to give it an old Victorian look and get steampunk stools that are both comfortable and look great.
Depending on the size of your kitchen island, you may be able to use barn-door-style cabinet doors instead of traditional cabinet doors or drawers. Slide the door along a brass-colored bar and use copper notions to keep it within the genre.
Steampunk Kitchen Appliances
Unless you order something custom, you won't be able to find any major appliances that strictly look as though they belong in a steampunk universe. Depending on the rest of your kitchen's decor, choose between black or stainless steel appliances. 
While steampunk refrigerators and dishwashers may be hard to come by, you can find modern stoves that look Victorian. These high-end stoves are both perfectly functional and inspiring to use.
Alternatively, you can purchase full decal stickers that can be placed over refrigerators and dishwashers, but most don't add any realism and could detract from your other decor. At the end of the day, you still want your kitchen to be both functional and aesthetically pleasing.
If you choose to decorate your appliances, we recommend using smaller decals or magnets that can easily be removed in the future. Look for images that look like cogs, belts, or other steampunk notions.
Have you ever seen a steampunk sink that wasn't made of copper? Don't make me laugh! Also, it needs to be nice and deep, in case you're skinning a reluctant octopus and have a battle royale on your hands. For those who don't live in mansions, those deep white country sinks, made out of something deep and white, I guess, would also work. As long as there remains plenty of elbow room so that the cook can make a spectacle of bashing whatever is in there, while shouting "Get down, you rascal! Back to the very gates of hell!!"
When picking your kitchen sink, consider your cabinets and countertops to determine your style. Choose between a copy-colored sink or a farmhouse-style sink depending on another styling in the room. Personally, I recommend picking a white farmhouse-style sink
There are many steampunk-style kitchen faucets that range from industrial to Victorian appearance. You can even find models that come with a spray feature, giving you the amenities of a modern kitchen while maintaining an aesthetic charm.
Add kitchen tile or backsplash behind the sink and on the walls where it makes sense. Use cream, brown, black, or brick vinyl to stay within the appropriate themes.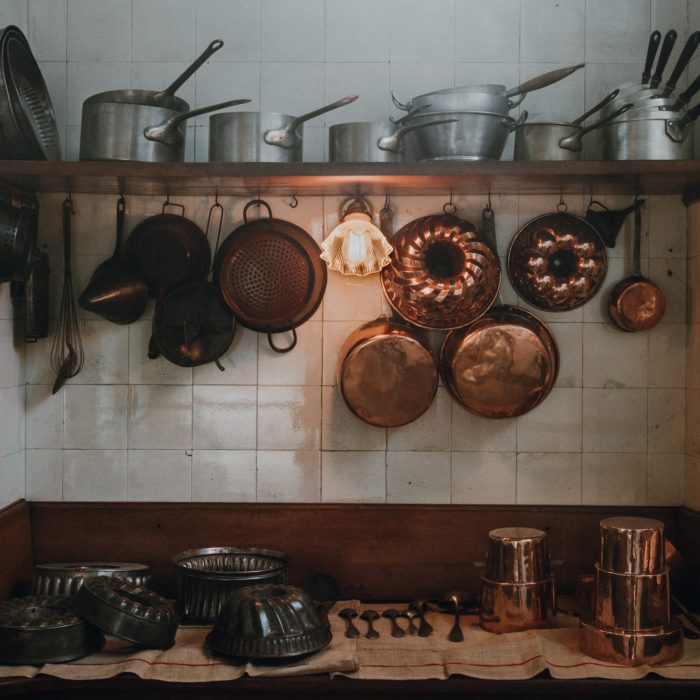 A length of copper or metal pipe attached to the wall makes an excellent pan rack, or else use the racks that extend from the ceiling with large hooks attached. A great place to hang all the copper pots and pans, and also a perfect place for everyone to smash their heads against those very same utensils. What hilarious japes!
A pan rack is not only functional, but it seemingly takes you back in time. Find one that hangs elegantly from the ceiling and is decorated in a Victorian way. There are a few that come with a light as well, giving even more functionality to your kitchen.
Steampunk Kitchen Lighting
A set of four or more Edison bulbs hanging from metal tubing will cast the perfect amount of light. Or put two sets of tubing at right angles and create eight lights. Hanging a pool table light instead will show what a raconteur you are. A chandelier made of animal bones and antlers will give a rustic look. If you must use fluorescent lights, disguise them by hiding them inside the body of a dirigible that hangs from the ceiling. You will get nice, diffused light and will also be able to hide your shame. 
The lighting in your kitchen will vary depending on the style and location of each light. If above a bar or island, you may need several lights or a chandelier. You can also choose between closed lights (which are typically standard for kitchens) and open lighting. Try to stay within the aesthetics of the rest of the kitchen.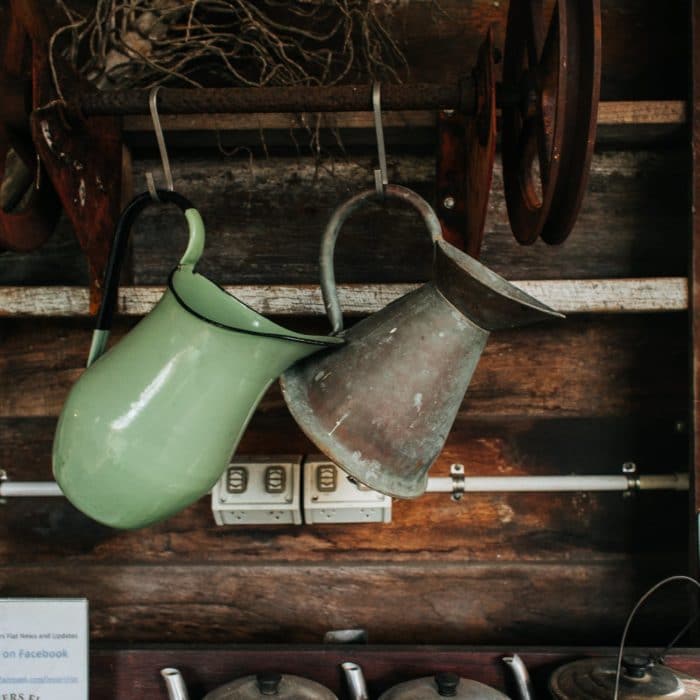 Steampunk Kitchen Accessories
You'll need a place to hang all your knives and cleavers, and a big slab of magnetic metal to slap them against looks suitably dangerous. Now, where to put the spatulas and ladles? What about in a hollowed-out monkey head? Okay, okay! Keep your pantyhose on. Put them in any pre-Columbian artifact you brought back from your world travels instead. To complete the ensemble, a steam-powered toaster, clad in copper with pressure gauges. Finally, a well-placed Victorian coffee grinder made of the same sort of metal used to crush rocks, complete with wheels and a turning handle, will illustrate how you can make even the simplest actions hard and tedious!
There are many other bits and bobs you can add to your kitchen to bring in steampunk stylings. These include clocks, light switches, kitchen utensils, curtains and blinds, window treatments, a coffee maker, coffee mugs (and a tree to put them on), cutting boards, kitchen knives, trash cans, and more.