Whether you want to craft your own industrial lamp complete with metal decor (gears of course!) or you want to plunder a store (or have it delivered to you in a few days!) for a new or vintage light in a cage, we can all agree that a steampunk lamp is the best way to deliver more light to your already-stylish (filled with other Steampunk accessories!) house.
If you have been searching to and fro for the best Steampunk lamps for your living space, you have come to the right place! We have sailed the seven seas to find the highest-quality industrial-style lamps created for those who love the genre.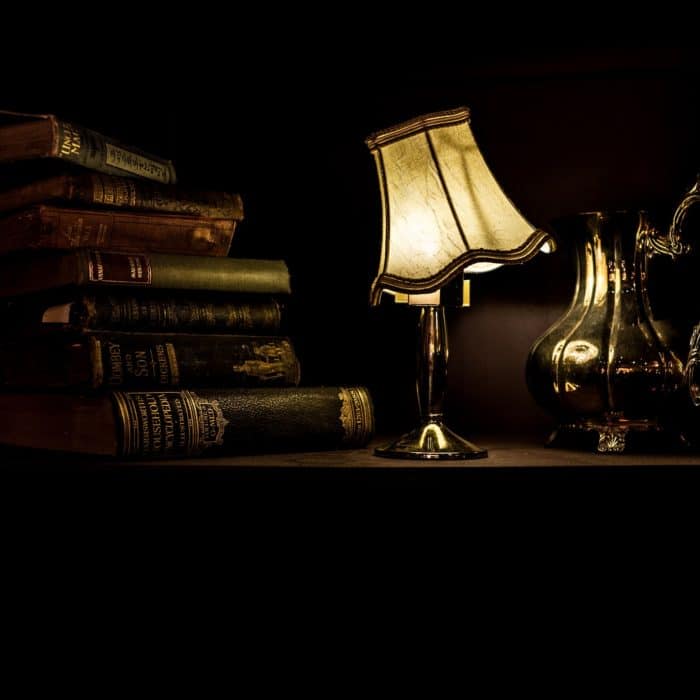 "Come here, minion. Closer! I want to seeee you!" And that's why you need a desk lamp. As soon as your underling comes near, trembling, with hat in hand, you suddenly point the light in his face and shout "Where were you on the night of the 21st?!" Besides practical uses like that, a fine desk lamp makes the man or woman. Got your gauges? Got lots of metal pipes, u-bends, connectors, and things like that?
And most importantly, got your Edison lights, those long tube things? Then you've got the makings of a steampunk desk lamp. Put together the pipes like some twisty turny thing, and maybe even enclose the filaments themselves in a wire cage to keep the electricity from leaking all over the place.
Make sure that your desk lamps are precisely placed in order to give you enough light to work. While there are several uniquely designed steampunk lamps, they may not be efficient enough to meet your needs. That being said, if you have shelves above your desk or you can hang them in some fashion, you may be able to create a unique look that keeps you inspired throughout your workday.
The best way to make a table lamp is to take your desk lamp, walk it over to a table filled with books and other accouterments and with a grand gesture, sweep them all onto the floor. Now you have a clean table on which to put your lamp!
For more information about how to clear space for other types of lighting, your ship in a bottle, or other quality goods, check out my latest title, "The Eccentric's Guide to Cleaning Industrial Spaces for Impeccable Powered Style," (only available at a single London bookstore in the year 1908 – though it sold on 8 February, so for your best bet is to set your time machine to 7 February – unfortunately, I've misplaced the name of the shop… good luck!).
In all seriousness, if you have a drab wood table which that would be brightened (pun intended) with a quality industrial table lamp, you can find one for a smart price. Check out the two lovely specimens pictured below!
Table lamps can not only serve the purpose of filling your area with light, but they can also act as a unique centerpiece for your next dinner party. Make sure to find a specimen that makes the perfect talking point for the other adventurers, inventors, puzzle-makers, and other eccentrics surrounding your table.
Some popular lamp features in an industrial table lamp are Edison bulbs, a sturdy wooden base, industrial styling (iron icons, vintage gears, or a cage-like fixture), and a quality bulb that looks as though it is also a period piece.
When you find the right industrial table lamp for your Steampunk space, you will likely earn awesome compliments from the other adventurers, inventors, and spacemen in your inner circle. You will all be able to spend your evenings huddled around the table, plotting your next scheme for world domination.
Since steampunk lamps are invariably made of metal pipes, the base of the lamp must be able to hold that weight, so the perfect thing to use is, of course, a fire hydrant. On the off-chance you don't have one handy, a big, thick industrial cog will work. Or maybe even those metal things inside tires! What are they called? Rims! Next, start building up from the base with your pipes, adding little offshoots for the bulbs here and there. Where a table lamp only needs one or two lights, a floor lamp needs more. Three? Hahahaha! Four!! Five!!! Who knows?! (cackle, snort, maniacal laughter). And now a pressure gauge! Don't be scared! Do it, you loveable rogue!
The right floor lamp can give your room a rustic, industrial feel. You can fill your room with adequate light or simply give yourself enough to read your favorite steampunk novels. Regardless of your purposes, make sure to turn them out before climbing the ladder to your secret loft and heading to bed.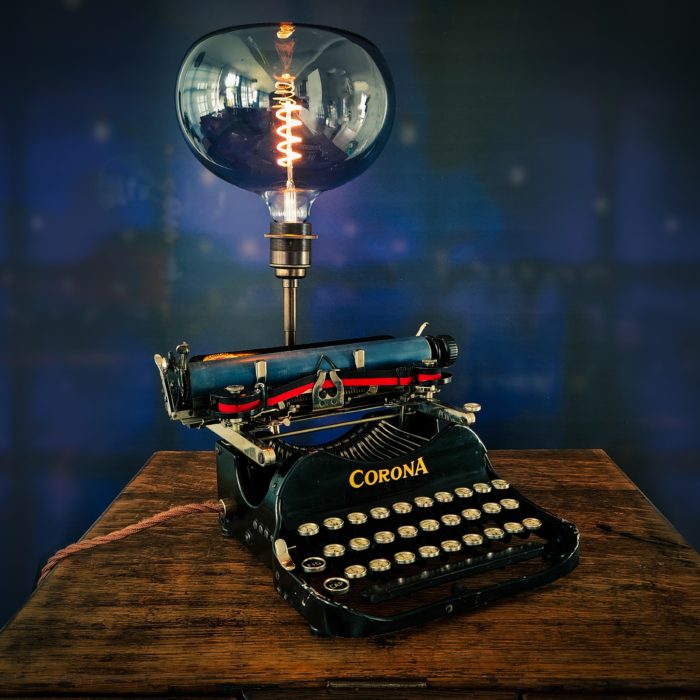 Be careful when placing your console table lamp. We all know that there is no space, so you may need to invent trappings to keep it perfectly balanced atop your stacked books and those quality maps you've drawn up for your neighborhood watch. Console tables are perfect for items that no longer clutter your desk, but you will need some lighting so that you can easily note down when Mrs. Jones next door takes out her trash (what better way is there to keep up with them than knowing their every move?).
Look for similar features to those quality lamps for your desk. Any steampunk table lamp made for console tables should have industrial styling that delivers the steampunk feel for which you are searching.
Steampunk Lamp Features You Should Look For
Whether you are looking for an industrial table lamp with a wooden base, or you want a small desk lamp to light up your workspace, there are a few things you should consider when you are picking out a steampunk lamp for your home:
Bulb style – As we all know, even though lighting companies perfected the bulb a century ago, they have modified them to make them replaceable. There is nothing worse than not being able to find the perfect bulb for your lamp. Before you purchase an awesome, vintage lamp for your room, it is a good idea to know that you can replace the bulb in the future. Check out the style and quality of bulbs available for that specific steampunk lamp. If they are readily available for the right price, it may be the perfect lamp for you. Environmentally-conscious steampunk enthusiasts may also want a bulb that can also help save the planet!
House style – Whether you plan to put the lamp in your bedroom or office, it is a good idea to make sure your lighting matches the rest of our overall style. Will it clash with the pictures on your wall? Will its features mix with other vintage decor surrounding it? Will it highlight a room and make it pop? If you have other industrial iron features in a room, try to find metal lamps that match in both color and style. You should also try to match wood styles (if applicable).
Function – The best vintage lighting in your home should serve as more than a piece of decor. No matter how a table lamp may look in the center of your dining space, you will want to make sure you can easily switch the bulb on so that it can light up your life. Make sure the cord is long enough to where you want to place it (some vintage lamps may come with a short cord), and that its other features (such as being dimmable) meet your needs.
Price – The price of your industrial, metal lamp is always important. After all, you wouldn't want this expense to stand in the way of you going on your next adventure. Make sure that you find a product that is the perfect price for your pocketbook.