While masks are not as commonplace as other steampunk accessories like goggles, you will still find a number of options online. But to make your search easier, here are the best masks for your steampunk garb that can be found online.
What To Look for in a Steampunk Masks
Like all steampunk costuming, here are the usual elements present in steampunk masks:
Neutral Colors
Of course, it goes without saying that a steampunk mask carries the color palette present in all clothing and accessories. This includes brown, black, gray, silver, gold, brass, and white. Orange and yellow may still be included, too.
However, steampunk is all about creativity, and trends change every few years. Therefore, don't be afraid to mix in brighter colors such as sapphire blue, ruby red, or even emerald green.
Leather and Metal
Like steampunk goggles, masks also use similar materials iconic to steampunk, such as leather and metal. Brass masks with metal accessories like corrugated tubes, gears, cogs, and spikes are one of the most recognizable steampunk masks inspired by alternative history.
Most of these masks are made from metal and leather, although store-bought ones could also be made from plastic simulated as metal and faux leather.
Other materials may also be added, such as paper, cloth, and rubber. Look for spare lightweight materials to add to your mask in your steampunk-themed room.
Historically Inspired
As with any steampunk clothing, you could take ideas from anachronistic technological features inspired by the Victorian era. Masks from this period range from masquerade masks to ones worn for more practical purposes, like respirators and what I call "extended goggles" (more on this later).
And although not technically used during this period, other historically famous or infamous masks like plague doctor masks and gas masks are also great ideas. Historical elements are big in the steampunk fashion community.
You can also find ideas from science fiction and detective novels that are set during this period, such as Jules Verne, HG Wells, and Arthur Conan Doyle.
Steampunk Masks Varieties
Okay, now that we've covered stuff you need to look for in a steampunk mask, here are some common types of steampunk masks usually worn during steampunk events:
Extended Goggles
If you are curious to know if there's such a thing as extended goggles, you might not find anything because I kind of made this term up. Simply put, this refers to a (usually) metal mask with steampunk goggles or part of it included. Because goggles are the unwritten icon of steampunk, it won't hurt to incorporate them into masks. Plus, they look cool.
Venetian Masks
Nobody is sure when Venetian masks started to become associated with steampunk, but when you search for steampunk masks in stores, I bet you will find one or two items heavily inspired by them. Historically speaking, Venetian masks come from its namesake city, Venice, Italy, where folks in the Middle Ages wore them to carnivals.
Maybe it's because of its elegance and beauty, as well as its association with the idea of nobilities and other high society individuals mingling into the crowd and partying, that it somehow managed to make its way into steampunk venue setting.
Gas Masks
Steampunk is really big on historically-inspired costumes, and the gas mask isn't an exception. The gas mask was invented to protect its wearer from inhaling toxic gas and polluted air. It was standard wear during the World Wars.
Masquerade Masks
Again, another mask with historical roots. Like Venetian masks, masquerade masks were worn to balls and parties, even until today.
Plague Doctor Masks
Now, this one originated way back in the Middle Ages. If you are a history buff (or at least have seen a movie or two centered around the era), you know this rather spooky mask was invented to protect doctors from airborne viruses during the Bubonic Plague or Black Death.
For some reason, instead of being creeped out by its historical significance and meaning, it has now made its way to various fashion cultures, including steampunk.
Pagan Masks
Last but not least in our list of steampunk masks is one with roots originating in the mist-covered, dark times when people still worship nature. Pagan masks seem to be a more recent addition to steampunk costumes, but people are also starting to adapt to them. When I say pagan masks, I would mean ones worn by shamans and priestesses during rituals. Imagine a mask that is shaped like a goat skull with ram horns. Yes, that's it.
Of course, steampunk masks could also be other than the one I described above. However, those are the most common ones.
I scoured the Interwebs, particularly Instagram, to find the best Steampunk mask ideas. Take a look at them, and who knows, you might find an inspiration or two:
Phantom Half Mask

Phantom Half Mask by livkatemodels

Even though Phantom of the Opera is regarded as a gothic fiction, the mask on Andrew Lloyd Webber musical version of the novel has inspired many to create their version of the iconic mask–and steampunk fans certainly contributed their share. This awesome gold mask incorporated steampunk elements, most notably cogs and corrugated tube. It's perfect for those who play enigmatic steampunk characters.

Steampunk Venetian Mask and Skull Mask

Steampunk Venetian Mask and Skull Mask by coltonsmith17

These two beautiful mask pieces may have been inspired from the movie, The Purge, with steampunk design mixed in.

Assortment of Steampunk Masks and Hats

Assortment of Steampunk Masks and Hats by dmitryluna

This jaw-dropping collection of steampunk masks will certainly make you wish to get one, too. Get inspired by this assortment of steampunk masks and hats, with many different designs from plague doctor-inspired to skull masks.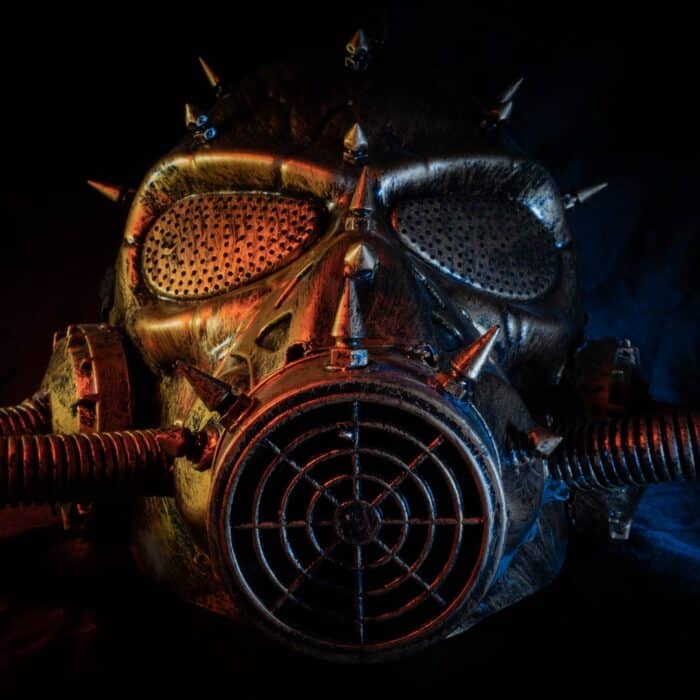 Ready to get the best steampunk mask for your next cosplay? Check out these stunning masks:
Steampunk Gladiator Half Mask

Steampunk Gladiator Half Mask

Starting from this metallic gladiator half-mask, this one combines a bit of a medieval masquerade mask-build and the iconic accessories of the steampunk tradition, turning it into a piece that will certainly turn heads your way.

Steampunk Masquerade Mask

Steampunk Masquerade Mask

This charming masquerade mask may have ornate Baroque designs carved and embossed on it, but its metallic finish will perfectly fit any elegant yet mysterious steamsona character.

Steampunk Metal Cyborg Venetian Mask

Steampunk Metal Cyborg Venetian Mask

With a design that reminds you of the Phantom of the Opera, this steampunk half-mask is an excellent addition to any character whose background is shrouded in enigma.

Steampunk Venetian Masquerade Mask

Steampunk Venetian Masquerade Mask

These steampunk-themed masks are versatile, so whether you are going to a masquerade party or a cosplay con, it's simply one of the best items to buy.

Plague Doctor Half Mask With Goggles

Plague Doctor Half Mask With Goggles

Plague masks are becoming popular choices for steampunk accessories, so if you need one, look no further and check out this awesome number.

Cat Mask

Cat Mask

Try out this charming steampunk masquerade mask with a cat design for a whimsical look.

Cthulhu Leather Mask

Cthulhu Leather Mask

Now, for a more villain aesthetic, you won't go wrong by incorporating this menacing mask, inspired by one of the most intimidating sci-fi creatures ever, namely, Cthulhu.

Respirator Gas Mask

Respirator Gas Mask

If you're going all out on steampunk, this respirator gas mask is the perfect choice that we bet you will get compliments for its authentic-looking design.

Full Respirator Gas Mask With Spikes

Full Respirator Gas Mask With Spikes

While this mask looks like it belongs more to the dieselpunk category, steampunk enthusiasts will still surely love this amazing piece.