If you are new to or just plain curious about steampunk and want to know more about it, we've decided to set up this guide to help you navigate this whimsical and imaginative world.
Worry not, fellow steampunk folks. In this post, we will talk about steampunk-style guides and everything you need to know about them. Let's get this steam rollin'.
What Is Typical of Steampunk Style?
Before we delve into what steampunk style is, let's get its definition out in the open first.
Steampunk started off as a subgenre of science fiction that combines retro-futuristic technology and the style from the late 19th century to the early 20th. Nowadays, the genre also includes fantasy novels that incorporate machinery and aesthetics of this time period.
You may have read somewhere that the steampunk style is mainly inspired by the Victorian Era, and this is correct. However, as the genre developed, some elements that aren't actually from this time period have also been incorporated.
For instance, gas masks that weren't widely used until the World Wars at the beginning of the 1910s are popular accessories in many steampunk cosplays. Likewise, plague masks and contraptions inspired by Da Vinci's inventions, both of which originated from an earlier period, also found their way to steampunk costuming and art.
While it's directly inspired by aesthetics of the past centuries, steampunk envisions a post-apocalyptic world that is set in alternate timelines derived from the Industrial Revolution. It imagines a world where people have continued using steam as the main power source for everything.
Interestingly enough, the steampunk movement didn't start until the mid to late 20th century, even though its style was based on the aesthetics of the earlier centuries. Moreover, it didn't enter the mainstream consciousness until the SalonCon in 2006, when fans of the style wore steampunk outfits. It continued to grow popular in the 2010s.
With a mixture of modern sensibilities and speculative inventions made with anachronistic technology, steampunk culture is in a league of its own.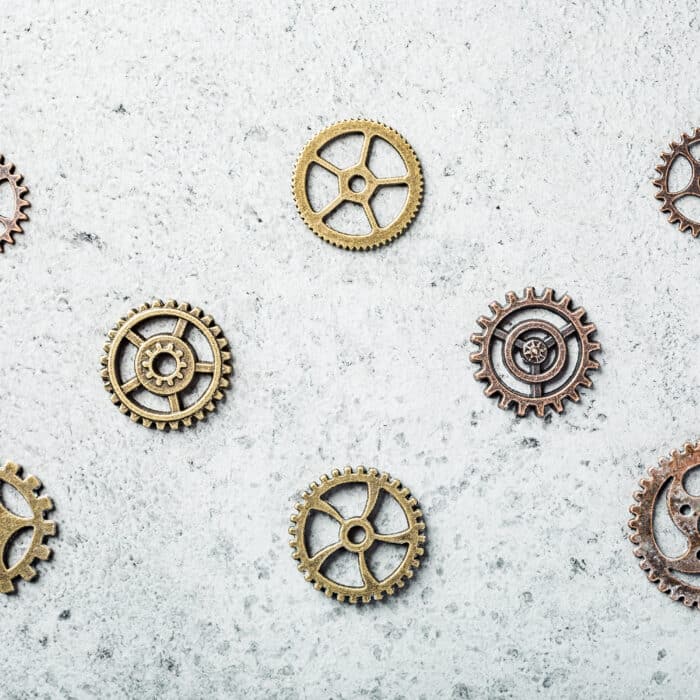 Because of steampunk's emphasis on the past, it's not surprising that colors associated with steampunk are also classified as "retro" or "vintage." Moreover, any object you want to call steampunk should also have that "old-timey" feel.
As such, neutral colors like black, brown, off-white, or cream are often associated with steampunk. Orange and yellow hues also belong to the steampunk color palette, especially metallic and/or muted ones. Beige, copper, brass, rust, brick-colored red, smoky gray, and sepia are also popular steampunk colors.
Basically, any color that reminds you of industrial elements like metals, leather, coal, wood, and smoke could be used for steampunk styling.
What about brighter or more vivid colors in steampunk?
Nobody would stop you from using more vivid colors like blue, red, green, purple, and yellow in your steampunk costume, as they make the perfect contrast for the muted shades of brown and black. However, make sure your steampunk clothes are still consistent with the style or steampunk persona you chose.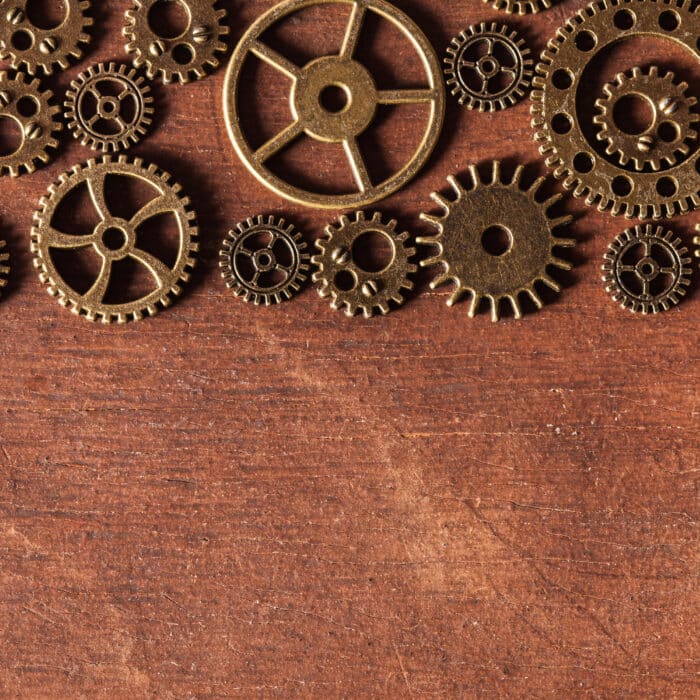 Taking inspiration from the Industrial Age, you could expect steampunk textures to be more on the grimy and sooty side of things.
Imagine rusty metallic tubes of varying sizes and brass machinery. Streets filled with dust and smoke due to steam-powered engines moving about, from airships in the skies to steam trains going through the city center. Waking up to early mornings when smog fills the air and covers your window panes.
On the other hand, steampunk also captures the romantic side of the past. You know, adventures, romances, long-distance travel, exploration, and the like.
Picture a house full of objects almost all entirely made of metal, leather, or wood. Clocks made of brass, with cogs and gears visible for everyone to see.
Varnished furniture, lacquerware, and ancient artifacts are gathered from faraway places: some, are bought in bazaars, while others are presents, and others still are procured through dangerous means.
Then, you also have the velvety curtains and wooly hand-woven oriental rugs, silky dresses, cotton shirts, and thick, heavy coats. You may also experience the delicate glass and cold metal of your goggles.
These contrasting yet harmonious blends of textures are all part of the steampunk aesthetic.
Steampunk artwork is quite easy to identify. Machinery and retrofuturistic technology mixed with the elegant and intricate aesthetics of the pre-war world.
An early example of what could be considered steampunk visual art is this ink over-graphite underdrawing by French illustrator Albert Robida in 1883:
Maison tournante aérienne, as this artwork is called, depicts a house above a rooftop and an airship in the background. Its inventiveness and the airship itself are both reminiscent of steampunk elements.
Novels published during the late 1800s to early 1900s period, including Around the World in 80 Days by Jules Verne, Steam Man of the Prairies by Edward S. Ellis, and The Time Machine by H.G. Wells are all considered to be precursors of the steampunk genre in fiction. All novels feature contraptions and inventions that are quite advanced for their time.
It wasn't until 1959 that Mervyn Peake's Titus Alone was published and considered to be the first actual steampunk novel. It would also take twenty years or so before author K.W. Jeter coined the term "steampunk" to call the genre.
Since then, steampunk has spread over to other forms of media, including movies, anime, and video games. Japanese anime, in particular, features steampunk elements in their shows.
Hayao Miyazaki, a respected Japanese animator who is behind animation classics such as Castle in the Sky and Howl's Moving Castle, uses steampunk in many of his movies. These two movies in particular contain a flying castle and a moving house, with airships to boot.
Music also has its contribution to the steampunk style. Lindsey Stirling's popular hit Roundtable Rival is one of the most notable examples.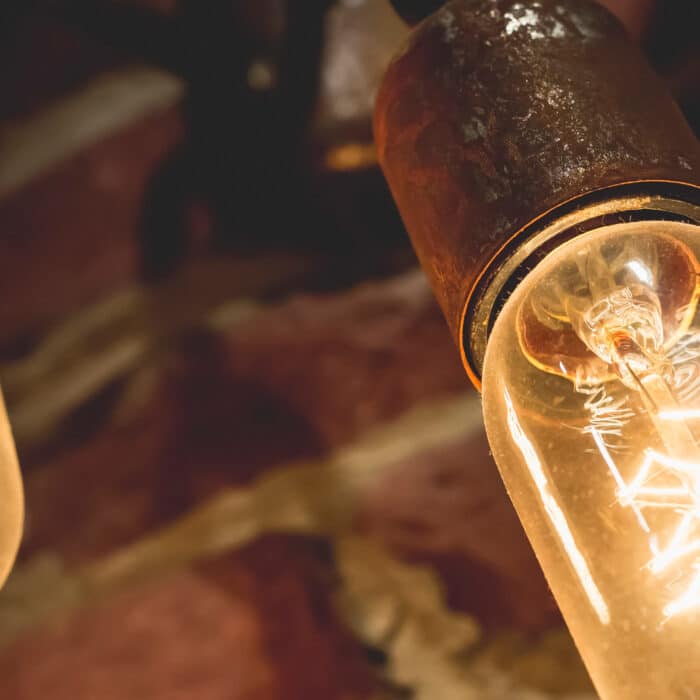 Steampunk furniture again combines the two elements of retro technology and the romantic past. Steampunk furniture can go in two directions: one that is seemingly created or recycled from scraps, and the other is a beautiful antique that actually existed in the Victorian Era.
The latter style constitutes heavy wooden furniture made from mahogany, oak, or other materials, with dark finishes and ornate designs. Couches, chairs, and beds also include luxurious and heavy fabric. Even the curtains are usually made from velvet or brocade.
Others also decide to upgrade traditional furniture by giving them a more "steampunk look" by adding elements like brass cogs, gears, and tubes. You could even choose to make them look distressed and antique, looking through modifications. If your furniture is lighter in color, you could also stain them to make them look a little old.
Meanwhile, others prefer the more inventive side. You can opt to upcycle broken items and old furniture by turning them into a new ones. Some use old bicycles, wheels, tubes, machine parts, musical instruments, sewing machines, lamps, telephones, or any other object that could be used in the upcycling process. By painting over it with brass, gold, or silver, you could turn them into new and unique art pieces.
Steampunk fixtures, on the other hand, include either vintage items or homemade crafts, like cogwheel clocks, telephones with rotary dials, antique radios, muskets, treasure chests, vintage bicycles, miniature steam trains, industrial lamps, and others.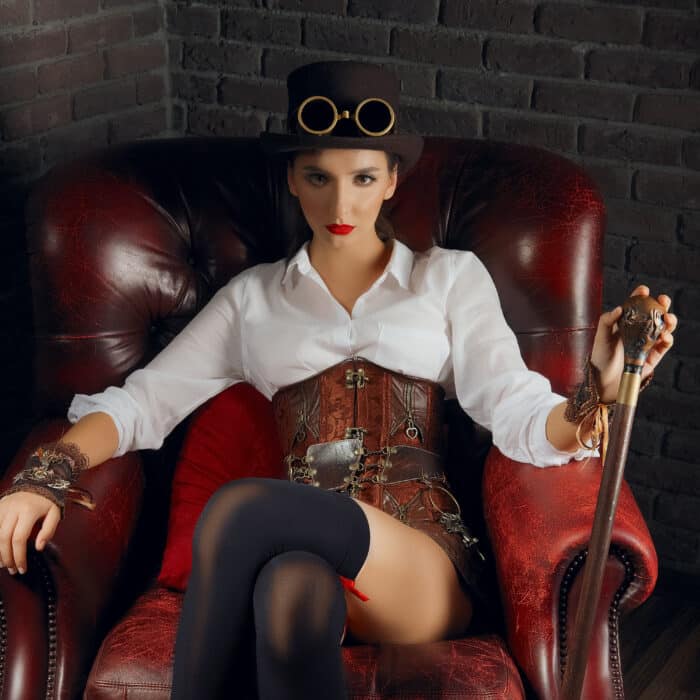 Like everything else, steampunk clothing borrows fashion styles from the Victorian Era aesthetics with added industrial elements.
For instance, women's steampunk style guide usually includes long and massive ruffled skirts, bustles, petticoats, gowns, and dresses. Corsets, in particular, feature predominantly in many women's steampunk costumes. However, instead of being an undergarment, boned corsets are usually incorporated in steampunk attire and could be obvious.
To meet the modern steampunk fashion standards though, accessories like hats and goggles are a must. Most steampunk costumes for women also feature hats, but whether you'd like to wear a traditional Victorian bonnet or a bowler hat for a more masculine look is up to you. Just remember to put the goggles atop the hat or any steampunk accessory you prefer.
Similarly, men's steampunk clothing style is also heavily inspired by Victorian clothing. Men's steampunk outfit usually includes military garments like tailcoats, jackets, and coats paired with long trousers and riding boots. To complete the look, wear a top hat or bowler hat with goggles resting atop the brim.
These styles aren't gender-exclusive, though. Women can choose to wear more "masculine-looking" costumes, and vice versa. At the end of the day, your costume will largely depend on your preference and your character or the steampunk persona you are playing.
Plan your costume around the character. If they are adventurers or explorers, perhaps you should wear something that allows for more movement. Mix and match the above-mentioned elements, if you will. After all, in steampunk, creativity is the key.
Your outfit doesn't stop with steampunk garments and common accessories. In addition to them, you could carry steampunk accouterments like replica muskets, pistols, or any other antique-looking costume weapon. Other items you could carry with you are pocket watches, leather accessories like bags and belts, brooches, gauntlets, compasses, jewelry, parasols, and more.
If you're going to a steampunk event, remember to do your hair and makeup as well to make the costume as accurate as possible. You can even choose to include body modifications, like an arm replaced by a machine.
Knowing the important icons that people associate with steampunk is important to familiarize the steampunk style. They are also almost always in every steampunk-style clothing or aesthetics.
Airships

Airships, or any other steam-powered engine for that matter, are what makes steampunk "steampunk." There isn't a steampunk to call without those that give it the name, right?

Goggles

Goggles are an indispensable part of a steampunk outfit. Based on the cinder goggles used by people in the 1800s, steampunk goggles are one of the icons that define steampunk fashion.

Top Hat, Bowler Hat, or Bonnet

Hats from the 19th century are a big factor in steampunk fashion. No matter which type of hat you prefer, remember to wear one to make it clear to everyone you are steampunk.

Buckles

Although almost always not noticeable, buckles play an important role in steampunk fashion. Used in coats, shoes, and even in contraptions, they are crucial to keeping you safe, secure, and comfortable.

Brass cogs and gears

One of the most memorable icons of steampunk style, cogs, and gears could be added to costumes, furniture, or art pieces to make them more steampunk-like. If you are creating handmade or have someone customize your steampunk clothes for you, consider adding metallic cogs and gears to any of your garment pieces.

Metallic parts

Like cogs and gears, other types of machine parts made from antique metal are also important in our steampunk style guide. Corrugated tubes, springs, and wires are some of the metal parts you can add to your costume.

Timepieces

Vintage analog clocks and antique-looking stopwatches are also iconic symbols of any steampunk-style guide.

Lamps

Lamps, especially industrial-looking ones, are also well-known steampunk symbols. If you want to decorate your room with steampunk elements, make sure to get a lamp that fits the overall style.

Corsets

Corsets and dress corsets are also popular pieces of steampunk clothing, especially for the ladies. You can find affordable ones in-store or in online shops, including Amazon.

Various contraptions

Known for its inventiveness and imagination, the steampunk aesthetic also incorporates creative contraptions of all sorts. Although it's not necessary for costuming, it could add more depth and detail to your style.