Whether you are looking to write a character in a novel, a logo for your small business, or you want to create Steampunk wedding invitations, it is important to understand the media and ideas based on the genre.
This post will cover several of the toy symbols and icons of the Steampunk genre and give you information as to why they are important.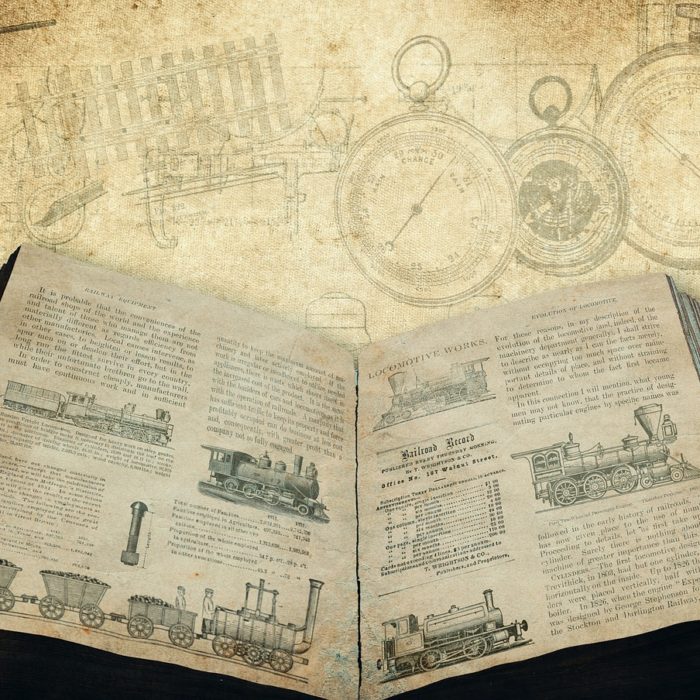 Steampunk Symbols – Iconography of the Industrial Revolution
The following eleven elements of imagery are considered symbols of the steampunk world:
1. Cog/Gears

Cogs and gears are the lifeblood of steampunk. Without the use of gas, oil, or hydraulics, these were the moving parts of practically everything. Gears of different sizes can be fitted in interesting shapes as wall art, or attached to practically anything to add that industrial vibe.

Many steampunk logos or pieces of art will showcase cogs. We even use one for the logo of this site. Because gears are so important to the Steampunk genre, it is a good symbol to use in a sign, the cover of a book, or any other graphic you can imagine.

Similarly, cart or carriage wheels are also common as they were also often seen in the industrial world. If people weren't traveling by horse and cart, they were using early cars or trains. Unless, you dip more into the worlds that Jules Verne and others created, but airships and hot air balloons will be mentioned later.

2. Airship

No such thing as planes (no fuel!), but fill a superstructure with hydrogen gas, add a propellor, and away you go. A large retro airship poster immediately adds the look of a well-seasoned traveler. Accent a room with a zeppelin hanging from the ceiling, or create an airship stencil and spray paint it on a wall. Liven up a light by stenciling airships on the lampshade. It's the only way to travel!

Airships are used to travel the world in many Steampunk stories. Whether the hero in the story is using one to fly over a desert or they receive visitors from an enchanting land, this method of travel is a staple of Steampunk stories.

3. Goggles

When traveling at enormous speeds approaching 40 miles an hour (!), goggles were not only stylish but necessary.  You, too, need to be prepared at any moment. Fortunately, goggles can be bought in many stores. Then it's up to you to leave them as they are, or accessorize them with extra lenses, gears, and other doodads.

4. Top Hat

No self-respecting lady or gentleman would be caught dead with an obscene naked head in public, and neither should you. A top hat is an essential attire for the steampunk noggin. Besides keeping your head covered, it's also the perfect place to keep your goggles. For that matter, why not add some gears, and perhaps a pocket watch? To complete the ensemble, an elegant feather at a rakish angle will set tongues wagging.

5. Edison Record Player

For the wealthy, nothing less than the new-fangled talking machine, the Edison Diamond Disc Phonograph. How else would you hear such toe-tapping numbers from 1900 like "Ma Blushin' Rosie" and "Bird in a Gilded Cage"? They were very expensive back then and are still expensive now.

Crank it up and hear those wonderful tinny sounds! Working cabinet models cost over a grand, but sometimes non-working units can be had for much less. They are usually repurposed as liquor cabinets. 

6. Hot Air Balloon

Avast, all ye below! Look to the skies, for it is none other than a hot air balloon! The mode of travel for the leisure class in Victorian times. A fine poster on the wall showing the lighter-than-air craft from the heady days of the 1850s will paint you as a discerning traveler.

A model balloon hanging from the ceiling also adds a dash of derring-do to any room. Or make one yourself by blowing up a balloon, covering it in papier mache, and then letting the air out of the balloon when dry. Paint the balloon, and add a small basket hanging by threads.

7. Telescope

Are those canals on Mars?! A fine telescope points to a house of distinction. Situated near a window with a potted fern in front, an antique telescope, large or small, marks the owner as an adventurer, not to mention one who won't be caught off-guard by marauding Bolsheviks!

Steampunk adventures use telescopes for more than gazing at the moon and stars. They can also be used as a spyglass to explore canyons, far-away cliffs, and more. There is probably a steampunk book or two where they are used to gaze into the depths of the sea. Enough cogs should be able to do anything, yes?

8. Octopus/Tentaccles

Shades of Jules Verne! Those pesky giant octopi are always spelling trouble for steampunk aquanauts. Mementos of daring escapes from their slimy clutches mean a room is not complete without an octopus holding teacups, or winding around a lamp, maybe even hiding above as part of a chandelier. An octopus stencil, perhaps even with the words Release the Kracken! Livens up a bathroom in no time.

9. Boots

Being an intrepid explorer, a true steampunk needs boots that take a beating. Who knows that weird alien landscape might be encountered? That's why it's important that footwear needs to be knee-high, with lots of straps holding things together, and plenty of laces to complete the effect. Man, woman, it doesn't matter; the same setup for everyone!

10. Insects

Bugs already look like they're made out of gears and cogs. It's a small wonder, then, that they fit right in with steampunk decor. However, most people don't want a swarm of insects in their homes, so it's a much better idea to use insect-themed wallpaper in certain areas, especially to offset darker colors.

Not every inset will do either. Remember those old books with illustrations of large grasshoppers and butterflies the size of a grown man's hand? Look for replicas of those. Scarabs are also a good choice when you are setting up Steampunk decor.

11. Silhouettes

No such thing as hi-tech photos, or even Polaroids, in this era. Want a portrait of a family member? It's either hire an itinerant artist or make a silhouette yourself. Easy to do! Sit the model in a chair, facing at a right angle. Shine a bright light at the person and draw the outline either on black construction paper or regular paper that will be inked later. Voila! Instant silhouette!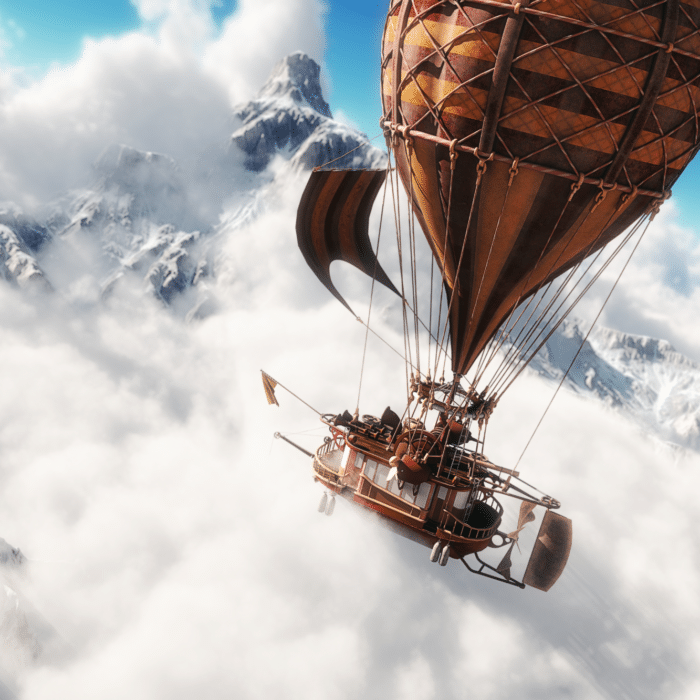 How Steampunk Symbols Are Determined
The aesthetic of the Steampunk world is based on the real world during the Industrial Revolution. While certain elements are changed depending on the location of the story, most imagine a place and time similar to London in the late 19th century.
Some of the historical events that have contributed to the character, language, and symbols that you will find in Steampunk books and movies include the following:
Britain's Reign of Queen Victoria

Queen Victoria took the throne on 20 June 1837 and reigned until her death on 22 January 1901. Her reign was the longest in British history and it wouldn't be surpassed until the reign of her great-great-granddaughter Elizabeth II. Many of the steampunk icons come from this time, when electricity was around but still not as commonly used as it is today. Both the technology and the apparel of the Victorian era are seen all throughout the Steampunk community and you would have to search far and wide before you found something that didn't relate to it at all.

The United States Civil War Era

Many Steampunk adventure/war scenes have elements of the American Civil War (which took place between 1861 and 1865). Many steampunk weapons and informs are stylized from the time period.

France's Belle Époque

This period is most often dated from the year 1871 to 1914. Think Moulin Rouge for the cabaret was founded during the time frame. Many feminine steampunk wardrobes will have pieces and symbols related to that time period.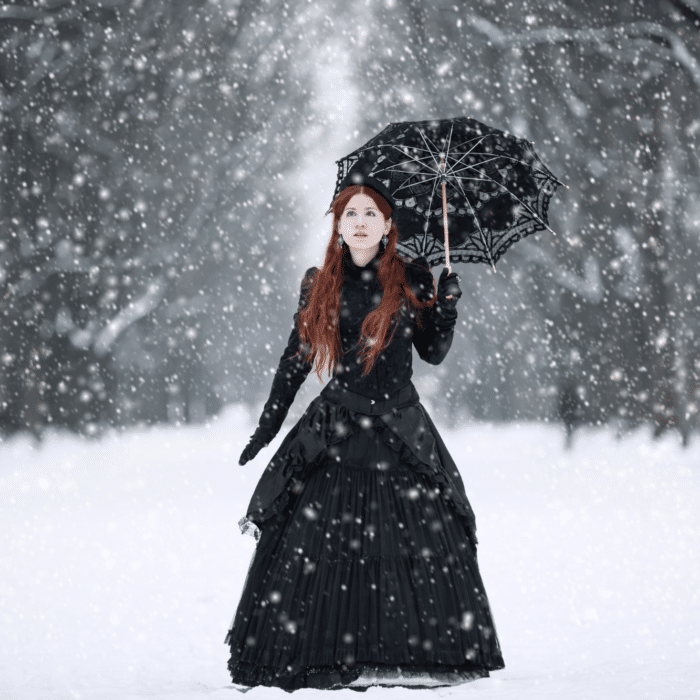 Where To Find Icons and Graphics for Steampunk Design
If you are on the search for icons, vectors, and other graphics relating to steampunk symbols, there are several places you can go to get the images you need. Whether it is a character sketch, logo, a layout for a wedding invitation, or you need help designing the cover for your upcoming Steampunk novel, you can find graphics at the following locations:
Fiverr

Fiverr is an online digital marketplace where people use technology to buy, sell, and trade their services. You can search for virtually anything on the site. When you find a designer you want to work with, you can create an order with the details you want to fit into your project. The artist will then deliver your project by their scheduled time.

Envato Elements

If you are a web designer, a graphic artist, or simply want several things related to steampunk symbology, you may want an Envato Elements account. The company provides unlimited icons, photos, music, sound effects, and more to help you create the content you need to succeed.

SketchFab

If you are looking for a 3D steampunk character or item, you can search for the perfect item on SketchFab to meet your needs. These items are designed by the creators on the platform and are subject to copyright. You can narrow down your selection by selecting appropriate tags in the browser.