This post will go over the most important elements of a Steampunk Vampire costume and give you a few ideas on how you can put together your own cosplay.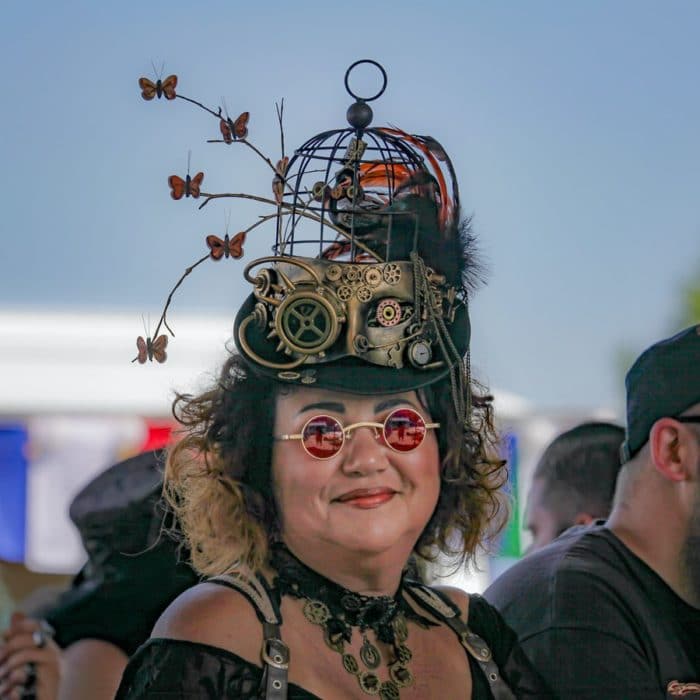 The top hat considered a steampunk icon and will help solidify that, even as a vampire, you are from the steampunk era. Vampires are typically seen to have a well-to-do appearance. Make sure to get a tall, well-made hat to which you can attach accessories (such as a sash, googles, or a vial of blood).
While top hats can be worn by both men and women, women can opt for a shorter hat or a "tiny" top hat. You can also attach a short veil to it to add to your mystique.
A long jacket is necessary. While a Dracula-type vampire would wear a cape, the long jacket will ensure that you look as though you are from the Victorian era. Black is typically standard, but depending on the rest of your costume, you could opt for another color, though try to stay on the darker side.
Attach cuffs or lace to the ends of the sleeves for a bit more flair, though you should make sure the color matches ruffles at your neck, your shirt, or another element of the costume. Again, vampires are portrayed as fashionable, so make sure to look classy.
While your shirt can be muted, you should use a dark-colored vest paired with a ruffled shirt. Try maroon, dark green, or dark blue. Remember If your vest has a pocket, add a pocket watch to bring in the steampunk style. You can also sew on buttons that resemble cogs or wear a brooch that displays steampunk iconography.
Women can select a dark-colored corset instead of a vest and shirt. Plenty of lace and ribbon will help set the stage for a Victorian steampunk setting and you can add jewelry (mentioned below) to really showcase your style.
Wear dark-colored pants. If you plan to wear boots over them, you will need to make sure that there isn't too much fabric at the bottom. Form-fitting pants will match the genre and style. Women should wear fuller skirts, though they can choose both long and short depending on how "accurate" they wish to be. After all, a vampire is supposed to be sultry.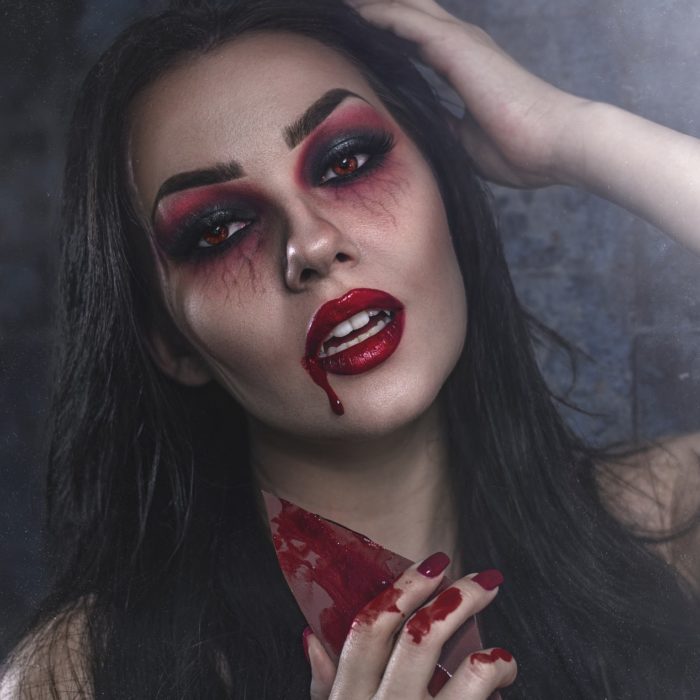 As a vampire, it is essential that you have the correct teeth. Look for high-quality fangs that attach (and detach) easily into your moth. You can also add a vial of blood to a gold chain or an open pocket watch set to midnight to place around your neck. Women can add long, acrylic nails to their cosplay to add extra seductive features to the outfit. Add an elegant cane to give you a domineering appearance.
Pulling boots over the bottom of your pants can make a great look. Women can hear high-topped shoes with plenty of buttons under their skirts. Wrap a thin belt or two around your boots to create that steampunk style.
Conclusion
Remember to stand tall and stare at everyone as though you can see the blood pulsing through their veins. Adding just the right amount of makeup will also bring you into your own.