Many steampunk wedding ideas allow you to be creative and decorative simultaneously. With just a little effort, you can find unique favor ideas that will stand out and remind your favorite people of your special day.
This post will cover a variety of steampunk wedding favors ideas that you can give to your wedding party and guests.
Steampunk Wedding Party Favors for Bridesmaids
Their job is to help the bride into her Victorian dress and shoes, hold her bouquet for her when needed, and ensure that she has the best day of her life.
Here are some steampunk wedding ideas for favors for the women who will support you on your big day:
Silver Compass Choker

A necklace is always a great way to show appreciation; this one has the added bonus of being metallic and functional! Keep track of where all your future conquests lie while also subtly showing off your taste in fabulous jewelry.

Monogrammed Wooden Box

A beautiful way to keep things simple and classy, while also showing off your love, appreciation, or creativity! They can also use it as a jewelry box to keep their necklaces and rings.

Vintage Lady's Lens Necklace

This is another beautiful piece that will have them feeling classy and feminine all at once! Finding a necklace that looks good with the bridesmaid dresses is another big plus!

Steampunk Tea Set

A stylish tea set that any tea drinker would love receiving. You can even set it up as a part of your steampunk wedding decor and have your friends take them home at the end.

Vintage Pocket Watch Necklace

It is an interesting piece that will showcase their interest in a vintage style and make them feel like an elegant lady.

Personalized Candles Set

Great for those who love candles or crafts, this set allows you to personalize each individual piece with a different saying!

Leather Bracelet

Keep things simple and classy as always, but remember to get them engraved!

Vintage Camera Ornament

If they are anything like us, they'll know how much of a hassle it can be lugging around an actual camera daily. With a vintage camera ornament, it's easy for them to get both the look and feel of an old-fashioned camera!

Steampunk Wheel Clock

This piece is perfect for those who like something a little more industrial or unique! Clocks are one of the most common steampunk symbols. Whether you purchase an industrial steampunk clock or use images of them around the room, having a mix of this imagery can elevate your event.

Personalized Globe

A wonderful piece that shows how much you appreciate your upbringings and the world around you!

Personalized Handkerchief

Another beautiful piece that is simple but speaks volumes, especially if you find some with lace or flowers.

Vintage Ring

A beautiful antique ring that is simple but speaks volumes! This piece will allow them to show off their love or appreciation for you without being too over the top!

Personalized Wooden Photo Blocks

A beautiful piece that allows you to include your own personalized touch.

Steampunk Necklace

A simple steampunk-themed piece that allows you to include your own personalized touch while also showing off your interest in vintage fashion!
Steampunk Wedding Party Favors for Groomsmen
Dressed in top hats, these men will stand with the groom to ensure your day goes off with a hitch. There are many aspects to a steampunk wedding that work well for men, allowing them to look cool while they support you.
Here is a list of unique steampunk wedding ideas that will work as party favors for groomsmen:
Steampunk Clock with Magnetic Case

The perfect accessory for your hipflask or flask that will help you time the hours of debauchery to come.

Leather Cuff Bracelets

Show off a little bit of yourself with these fun and rustic accessories.

Anchor Coasters

These coasters are a great way to subtly show appreciation for them being part of the wedding day.

Steampunk Telescope

This is an excellent gift for those who love to travel and explore!

Brass Flask & Hipflask Set

You can never go wrong with having a hipflask or flask on hand for the drinker in your life! Spruce it up with some engraving or get them engraved themselves, this is the gift that keeps on giving.

Steampunk Tool Kit

Those who love tinkering about and building things will love this little kit. It's a cute and fun way to allow them to show off their DIY side at the wedding but also keep it within the Steampunk theme!

Airship Ornament

Great for those who love that airy feel or have traveled on an airship before! This ornament is another great one for those who enjoy travel or have spent time flying above the clouds.

Leather Wallet Chain

This piece is a must-have for those who need a little more security in their lives! It will also hold up well over time and be something they will use for years to come.

Steampunk Hat Pin

This little pin is perfect for those who love to have a little fun with their style! It's also excellent because you can wear it with many different outfits.

Steampunk Pocket Watch

This pocket watch will be right up their alley for those who like a little bit of bling and shiny objects! It's got some great gold accents and will make them feel like royalty. Pocket watches are one of the most popular accessories at a steampunk wedding, so these will fit in nicely with the theme.

Monogrammed Playing Cards

Another simple but classy piece that will show off their love of games and history while also adding some unique flair to your reception.

Steampunk Cufflinks

Great for the more formal gentleman in your life, these unique pieces will show off their personality while also validating their interest in vintage style. Look for those that look as though they were plucked from the Victorian era.

Custom Zippo Case

Great for those who like to kick back with some cigars and a drink, this case will show off their interest in vintage fashion and style!

Hand Stamped Keychain

Great for those who love the feel of nostalgic items, this will bring them back to simpler times when things weren't as complicated.

Vintage Lighter

Great for those who love cigars and the art of time, this piece will allow them to show off their appreciation or love without it being too over the top! Search for those with extra details engraved into them so they stick to the steampunk theme.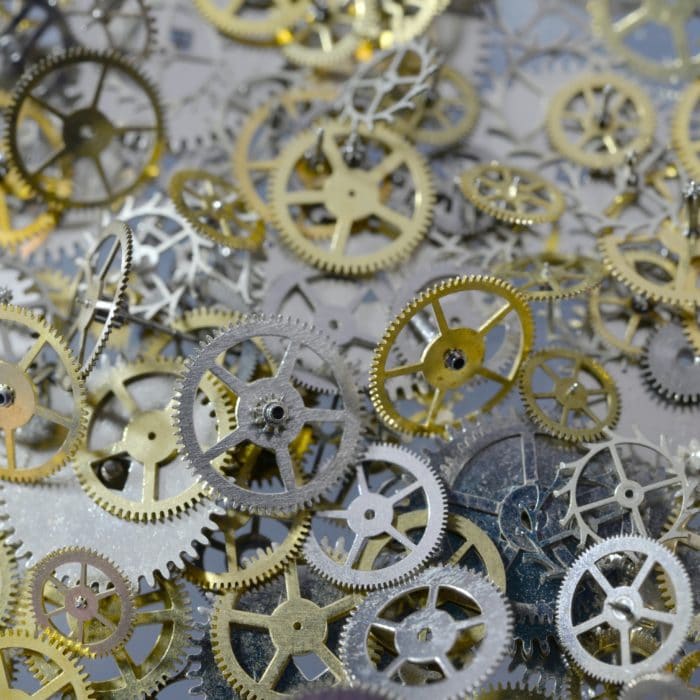 Steampunk Wedding Favors for Guests
Your guests are one of the most important aspects of your wedding. They have RSVPed to your fabulous steampunk wedding invitations and are there to support you as a couple.
Here's a list of steampunk-inspired wedding favors that you can give to your guests:
Tiny Gears

Tiny gears are an easy addition to any favor; they don't take up much space, and most guests will love them. Some people have even been known to wear gear as a necklace after the wedding.

Vials of sand

Little vials of colored sand can be a small favor to help your guests remember your wedding! You can often find these on Etsy for around $1-$2 each.

Magnets

These are super cheap, especially if you can get them made in bulk. However, pick a design that won't look cheap or cheesy on the magnet!

Antique Keys

These are other wedding favor idea that can be very affordable but still looks classy and unique. Add a ribbon and a tag to each one with your names and wedding date.

Coasters

Any coaster is an easy option for wedding favors, but the Steampunk variety is especially cool.

Trinket dishes

These can be made easily at home or bought in bulk online for a decent price, and they feel more personal than coasters.

Teacup sets

Again, these aren't necessarily steampunk-themed, but if you have a Steampunk wedding theme, they fit in.

Iron Paperclip Holder

This is another super affordable option, but it looks very classy and unique on the table!

Vintage Books

Giving people vintage books that they would personally find appealing for small, intimate weddings would be a very special touch. You could also make a personalized bookmark to remind them of the wedding.
DIY Steampunk Wedding Favors
Many happy couples like to create their own favors for their steampunk-themed wedding. Not only can this save a few extra dollars in your bank account, but it can be a fun bonding experience.
The following are a few amazing wedding ideas that are inspired by the steampunk genre:
Stencil Tote Bag

Stencil patterns onto brown or cream-colored fabric, paint the lettering silver or black, add cogs or gears to the top.

Heart Paperweight

Weigh down notes with an old heart-shaped paperweight. Paint them silver or copper for decoration.

Steampunk Candle

Make your own scented candles, attach gears and cogs using epoxy resin, and make a custom candle holder.

Ornate Card Case

Find an ornate card case and attach a small piece of paper with your name and wedding date on it. You can also make this out of leather to give the case a more finished look (leather stamps would be perfect for this).

Victorian Key Chain

Find an old key, clean it up, coat the surface with clear paint, fashion a keychain out of beads and attach it to the key. Add a charm or two for a more finished look.