However, it's no secret that building anything on Minecraft takes a lot of time, effort, and creativity. If you're in a creative rut or are simply looking for fantastic builds to get you going, you're in luck.
In this post, we have gathered some of the most stunning Minecraft builds we found online. Ready? Let's get this steam rollin'.
6 Best Steampunk-Inspired Minecraft Builds
Steampunk City by The Amazing Gamin' Guy

In this fantastic timelapse video by The Amazing Gamin' Guy, two Minecraft creators have spent a total of 31 weeks in order to create a humongous city inspired by a steampunk aesthetic.

As much as it is an ambitious project, all their effort was worth it because everything you could ask for in a steampunk city is present: from a steampunk train to an industrial factory to an airship port. Each of the steampunk house and buildings are so well-thought-out that the interiors are just as detailed as the exteriors.

It's intimidating to think about building a steampunk city yourself, but if you really want to, it's certainly not impossible. So, if you want inspiration and motivation to create your own steampunk city in Minecraft, give this video a watch.

Steampunk City by Aderlyon Build Team

Although it's another steampunk city, this timelapse video by Aderlyon Build Team takes theirs to another level. Giant clocks, airships, and Victorian Era-inspired buildings are just some of the main features of Aderlyon Build Team's floating Minecraft city. With its gorgeous architecture and color palette that certainly belongs to the steampunk style, this Minecraft build is a treat for the eyes of steampunk fans everywhere.

Even Minecraft players who are not hardcore steampunk fans would love to rebuild this one in their own for a fun project. Luckily, the creators of this build provide fans with a way to download it. It's available in the video's description, so after you're done watching the video, maybe give their steampunk build a try.

Steampunk Clocktower by lujoBoy

While fully developed Minecraft cities are surely awe-inspiring and worth bragging about to your friends, building them could be quite overwhelming for some. After all, it takes a lot of time, creativity, and effort just to finish it.

It might take you several weeks- or months- to pull off a decent project. You might also need some help from friends who understand the project and, ideally, love steampunk as much as you do.

So, why not start with smaller projects first? This steampunk clocktower by lujoBoy might be the perfect build to get your feet wet on creating bigger and more ambitious projects in your Minecraft world. It's not too large to get you overwhelmed, but it's not too simple either so you won't get bored starting with it quickly.

Another great thing about this video by lujoBoy is that it's not just a timelapse but a full tutorial on building the steampunk clocktower. What could be better than that?

Steampunk Locomotive by Freedom.

Switching from fixed structures to mobile constructs, this amazing tutorial video of a steampunk train will surely leave you in awe. Complete with amazing details from the firebox that makes steam trains work to the headlight at the forefront, it's created by an actual architect as a Minecraft base.

Well, don't let his major drive you into thinking that you won't be able to pull off this amazing Minecraft build. This video is a tutorial on how you can do the amazing Minecraft build yourself. If you love Minecraft steampunk builds with realistic detail such as this one, you should definitely watch his videos.

Steampunk House by Melthie

Back to smaller projects, this steampunk house build tutorial by Melthie should be on your list if you are serious about going on a steampunk-inspired Minecraft world. Whether you only want to build one or multiple houses inspired by a steampunk aesthetic, learning how to build a steampunk house would make you build more of them efficiently later on.

Melthie provided a tutorial to make it easy for beginners to build a steampunk house. Plus, did we say that the steampunk house looked jaw-dropping?

Steampunk Airship by theenigmaman

Airships is one of the most recognizable icons of steampunk style, and thus, this list wouldn't be complete without one. This epic tutorial from theenigmaman will help you learn how to build a steampunk airship from scratch. The airship also looked more fantastic than your average sky locomotive, which I'm sure will make you want to try building it yourself.

Although the tutorial is a bit long (almost 2 hours), theenigmaman goes into explaining it step-by-step, so it's easy to follow along. So, whether you're an architecture expert on Minecraft or have only built a couple of structures in your own world, you may be able to create your own airship in no time.
What Makes a Build Steampunk?
If you aren't sure what makes a Minecraft build steampunk, the best way to learn about it is to look for images online that describe the very aesthetic. Steampunk is a subgenre of science fiction that features anachronistic technology, such as steam locomotives in a Victorian Period setting. Thus, expect to see rusty and grimy industrial elements combined with the elaborate styles of this time period.
Some elements associated with the Victorian Era are:
Cogs and gears
Giant pipes
Steam locomotives, such as steam trains
Airships
Giant clocks and clockworks
The color palette usually includes brown, black, orange, gold, red, white, and yellow. However, copper and brass-like hues are often the more prominent colors associated with steampunk.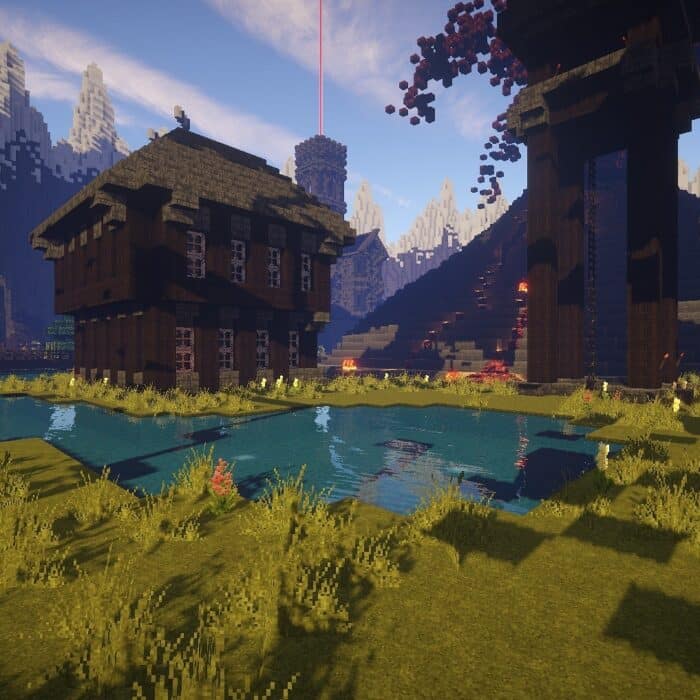 How to Create Your Own Steampunk Minecraft Build
If you play Minecraft and want to create your own cool steampunk build, here are some of our tips:
Watch tutorials first to get an idea of how to make one.
Scour Instagram and Pinterest for ideas and inspiration for creating your own build.
Create a folder of images related to Steampunk and Minecraft builds for inspiration and guidance.
Another thing you can do is go to Planet Minecraft where tons of downloadable, including schematics of steampunk Minecraft build, are available for you to use.
Lastly, experiment in your own world by building steampunk structures. Trial and error is the best way to achieve perfection. It doesn't matter if it looks kind of off. What matters is you learn along the way and improve your craft.