This post will go over nine of our favorite hats as well as give you some ideas on how to accessorize with them.
The top hat is a significant part of the steampunk genre. Top hats have been around since the 1800s and were very popular in the 19th century. However, they have never gone out of fashion and they are still worn today. Top hats and steampunk have quite a history together, and we don't believe that will end any time soon.

Here are three unique top hats that look as though they will take you through time and space to another universe:
Time Traveler Top Hat
This hat is perfect for anyone who loves time travel, steampunk, or Victorian styles. Not only is the top hat style is a classic, but the lights, cogs, and other features make it look like it is from another world. When you aren't wearing it to a steampunk wedding, you can place it on a shelf as a decorative talking piece. Although it looks heavy, the product is actually made from hard plastic, making it both lightweight and durable.
Mad Scientist Top Hat
The Victorian era was a time of great intellectual and cultural development. The 19th century was full of great innovation and many scientific discoveries. This period was also known for fashion, especially for women. If you want to dress like a steampunk scientist, archaeologist, or just want a hat that looks as though it came out of a novel, this mad scientist top hat may do the trick.
Gears and Vials Top Hat
This hat is the perfect addition to your Steampunk costume! This top hat comes with included goggles that are removable so that you can either wear them on the hat or separately. The hat is decorated with small vials, scissors, and other gadgets that help the hat stand out. The pattern on the hat itself is also unique and will suit many steamsona's wardrobes.
Best Steampunk Aviator Hats
Made famous by pilots like Charles Linbergh and Ameria Earhart, the aviator hat was created to be worn while flying. They typically had two ear flaps that could be folded down over the ears, which made them more comfortable for pilots who were wearing goggles or helmets. The original design included a visor with a curved brim that covered most of the face except for the eyes.
The design is still popular for many cosplay wardrobes, especially those surrounding the steampunk genre. Here are three aviator hats of different styles and quality for you to browse:
Brown Aviator Hat
This brown aviator hat comes with ear flaps to keep your ears and neck warm. The company uses faux suede which is a durable light brown material to make this hat. The ear flap buckles and chin strap have a burnished finish to give it an old-time, steampunk look. Great for soaring through the skies on your biplane or airship. Great for gifts. This hat is one size fits most. It has an inner adjustable strap to adjust to most adult sizes.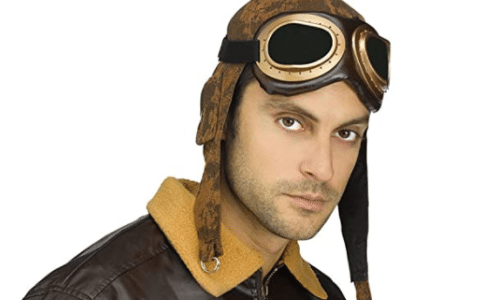 Aviator Cap and Goggles
Get a high-flying look at your next steampunk party with the Fun World Aviator Cap with Goggles. The Aviator Cap with Goggles is a two-piece set that includes a hat and goggles. The cap features a long strap with a buckle. It is brown and looks like leather from afar, although it is synthetic. without actually being leather. The goggles have copper rims and an elastic strap. This set works well with any steamsona with a passion for airtime adventure.
Leather Aviator Hat
This leather aviator cap is a timeless head accessory and is perfect for any steampunk aviator who lusts after sky travel. The aviator cap has real leather and can be worn with goggles to make you look like a fighter pilot. The adjustable straps on each side are used to tie the aviator cap under the chin and also upon the forehead. The buckle at the back of the cap allows you to tighten the cap if necessary. This aviator cap is perfect for men and women and is ideal for spring, summer, and fall seasons.
Best Steampunk Ladies Hat
While we fully stand by a woman's right to be a time lord or a mad scientist, you may occassionally find yourself in need of something a little more delicate. Whether you are attending a derby, a gala, or just gathering for a tea party with other time lords, you may want to check out one of the following hats:
Organza Kentucky Derby Hat
Available in many styles, the Kentucky Derby Hat is created from high-quality organza. It is a luxurious wide-brim hat with a double-layer design that will allow the wearer to look and feel elegant. The hat is perfect for many upscale steampunk ensembles as it tips its hat, as it were, to Victorian fashion. The brim of the hat is approximately 4 inches all the way around the head and the ruffles accent it nicely.
Tea Party Hat
The Tea Party Hat is a headband that is the perfect accessory that can be worn at any event. They add an extra touch of elegance to your outfit while also adding some fun! These headbands come in many different styles and colors. The handmade hat comes with a flower veil and feathers that will allow you to regally walk into any steampunk gala. As it is a headband, it should stay secure on your head, allowing you to enjoy the party to its fullest.
Mini Victorian Hat
The perfect accessory to any steampunk costume, this high-quality steampunk hat is constructed of plush felt and sits atop a black headband. Whether you're a quirky inventor or have a taste for adventure, you will look at the part with this mini-top hat. Designed for adults and older teens, this hat is one size fits most. The headband is comfortable to wear and you can accessorize the hat further with small cogs or other trinkets that are reminiscent of steampunk symbology.
How to Accessorize Your Hat
Once you have you hat, you can further customize it by addings special elements (such as more cogs or feathers) to it. You should also choose a hat that goes well with the rest of your outfit. Here are a few things you can keep in mind.
Glue Steampunk Elements

If you find a "plain" top hat sitting around in your attic, you can easily turn it into a steampunk hat by hot-gluing feathers, cogs, and other steampunk elements to it. Perhaps you could wrap a pocket watch around it?

Consider Your Theme

Think about what kind of decorations are appropriate for your steampunk hat is whether or not they will fit in with the overall theme of your outfit. For example, if you're wearing an all-black ensemble, then adding some colorful flowers to your hat may offset the black. If you want to go more traditional, try using pearls instead of flowers. Or perhaps you prefer something bolder? A large metal ring might look great. The possibilities really are endless!

Add Goggles

Although many steampunk hats come with included goggles, if yours doesn't, you can easily make it look a little more adventurous by adding a great set.

Venue

Another important consideration is where you plan to wear your steampunk hat. Will you be attending a wedding or going somewhere formal? If so, you may want to consider the wedding colors or other aspects of the venue's theme. However, if you'll be attending a costume party at someone's house, then you can get away with anything. Just make sure that whatever design you choose fits into the overall style of your outfit.