This post will cover the history of steampunk goggles as well as showcase some of our favorite goggles that you can purchase.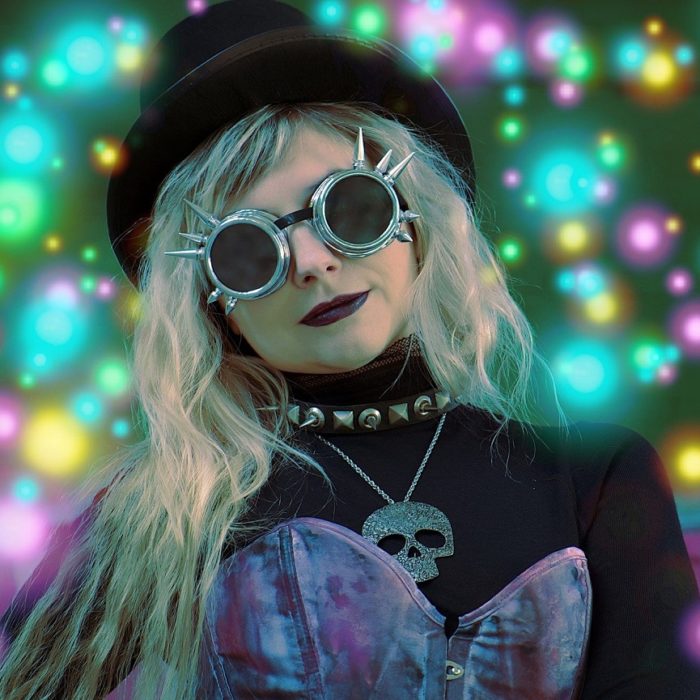 History of Steampunk Goggles
As one of the major icons of the steampunk genre, goggles are an essential aspect of any steamsona's wardrobe. But were goggles actually worn during Victorian times?
Cinder Glasses
Presumably named because they helped keep the cinder ash from the engines out of your eyes, cinder glasses became popular in the 1840s. Not only would railway workers wear them, but passengers would wear them as well due to the lack of windows or, for third-class riders, the lack of roof.
While cinder glasses aren't exactly goggles, the lenses were often fitted to a leather strap to keep them as close to the eye as possible. The lenses also came in multiple different colors which may have inspired some of the steampunk aesthetic today.
Driving Goggles
When the automobile was first made, they were far too slow to require goggles. After they began to pick up speed, many drivers (and passengers) chose to wear goggles for safety and comfort (and presumably to not get bugs in your eyes).
Aviator Goggles
Aviator goggles were used in the early 20th century to help protect eyes from the cold of high altitudes and for comfort from the airflow around windowless planes.
What To Look for in a Steampunk Goggles
When looking for steampunk goggles for your latest costume, there are a few things you should consider:
Additional Icons

Even though goggles are a key symbol of steampunk, try to find goggles that hold additional iconography. You can often find compasses or cogs connected to the goggles.

Steamsona of Character

Consider the personality of the steampunk character you are trying to create. What type of goggles would they wear and what functionality would they have.

Other Steampunk Accessories

Will your goggles match up well with your other steampunk accessories? Look for a pair that will go well with the rest of your ensemble.

Functionality

Having little gadgets attached to your goggles will make them look a little more interesting. If they can light up or have movable parts, you can slightly adjust your look throughout the day.

Price

Find a pair of goggles that look good but also match your budget.
Once you have a basic understanding of what you are looking for when it comes to Steampunk goggles, you'll be able to track down a pair that is right for your wardrobe. Here is a list of five goggle models that you can check out on your own:
Crystal Prism Goggles
For the steampunk inventor or mechanic, these Crystal Prism Goggles will help you look more than just a little eccentric (which is always best in our opinion). You have small double loupes that increase your vision over one lens as well as what appears to be a microscope lens equipped with a light over the other lens. The pair comes in a few different colors, allowing you to be more selective.
Vintage Earhart Goggles
Perfect for aviators, bikers, and anyone brave enough to fly through the skies on an airship, these googles would be the perfect addition for the avid adventurer. Keep the cool air, the wind, and the flies out of your eyes with these aviator glasses, named for a woman who embodied the spirit of courageous adventure. The good news is that not only are they fashionable, but they are also comfortable.
Punk Gothic Goggles
Have you been invited to a steampunk wedding? If you are otherwise on a budget and just need a set of goggles to throw on your top hat as you head out the door, these goggles give off just enough of the aesthetic without breaking the bank. Made from high-quality plastic, the lenses are enough to shield your eyes a bit if you want to avoid that great aunt who always squeezes your cheek (even though you have reached the age of 47).
Steampunk Rave Goggle
If functionality isn't at all important to you, you may enjoy these kaleidoscope goggles that are likely to get a compliment or two. With spikes that jut out of the frames and glass kaleidoscope lenses, you may not be able to see clearly, but they will stand out. They are perfect for EDM concerts, raves, or any event that requires a steampunk look. There are several styles and colors available.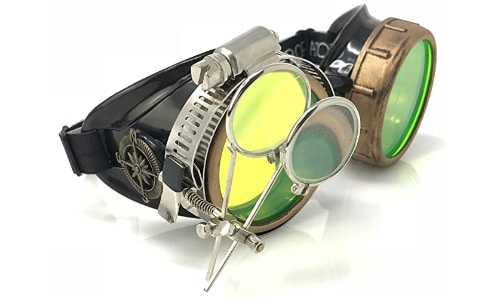 Victorian Compass Goggles
The Victorian Compass Goggles are handmade in the USA. With double eye loupes, compass symbology, and green lenses, this gadget will stand out whether it be sitting on your desk or atop your head. Every aspect of these goggles has been uniquely designed to look as though they were snatched from the pages of a steampunk novel. The company also makes other similar styles that may be more appealing to your specific tastes.
Best Steampunk Sunglasses
While goggles will fit the steampunk aesthetic more, they aren't very practical when it comes to modern life. If you want to keep a bit of the feel, but accessorize with something you can use, you may want to consider one of the following pairs of steampunk sunglasses:
Retro Round Glasses
More than just round-shaped sunglasses, these frames have a little extra detail that hints at the steampunk genre. They even come with a UV protection coating covering to give your eyes some protection. The glasses reduce glare to help you focus on the sights and scenery around you, allowing you to take in the adventure without squinting your eyes or shading your face with your hands.
Side-Frame Glasses
If you want functional sunglasses that both look as though they fit in with the modern world but have a bit of the aesthetic, then you may like these side-framed glasses. The lenses will help protect your eyes and remove glare. The side frames will help you remain focused with the added benefit of making them appear to be a little more "goggle-like." You can wear these with a few other functional accessories to bring the look home
Flip-Up Sunglasses
Doubling as blue-light lenses, these fashionable sunglasses will help you stand out. You can flip up the shaded portion of each lens for a little more functionality. Pair it with a top hat and a trench coat and you will look as though you stepped out of a Steampunk novel. The added benefit of these sunglasses is that they do look modern enough to pair with your everyday clothing, allowing you to celebrate a bit of your cosplay in everyday life.