This post will cover the history of steampunk goggles and showcase some of our favorite goggles you can purchase.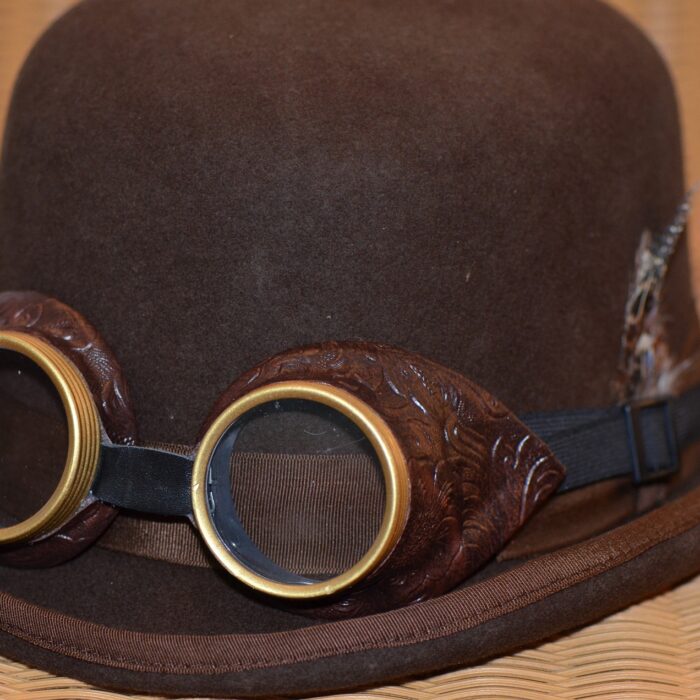 History of Steampunk Goggles
As one of the major icons of the steampunk genre, goggles are an essential aspect of any steamsona's wardrobe. But were goggles actually worn during Victorian times?
CINDER GLASSES
Presumably named because they helped keep the cinder ash from the engines out of your eyes, cinder glasses became popular in the 1840s. Not only would railway workers wear them, but passengers would wear them as well due to the lack of windows or, for third-class riders, the lack of roof.
While cinder glasses aren't exactly goggles, the lenses were often fitted to a leather strap to keep them as close to the eye as possible. The lenses also came in multiple different colors, which may have inspired some of the steampunk aesthetics today.
DRIVING GOGGLES
When the automobile was first made, they were far too slow to require goggles. After they began to pick up speed, many drivers (and passengers) wore goggles for safety and comfort (presumably, to not get bugs in your eyes).
AVIATOR GOGGLES
Aviator goggles were used in the early 20th century to help protect eyes from the cold of high altitudes and for comfort from the airflow around windowless planes.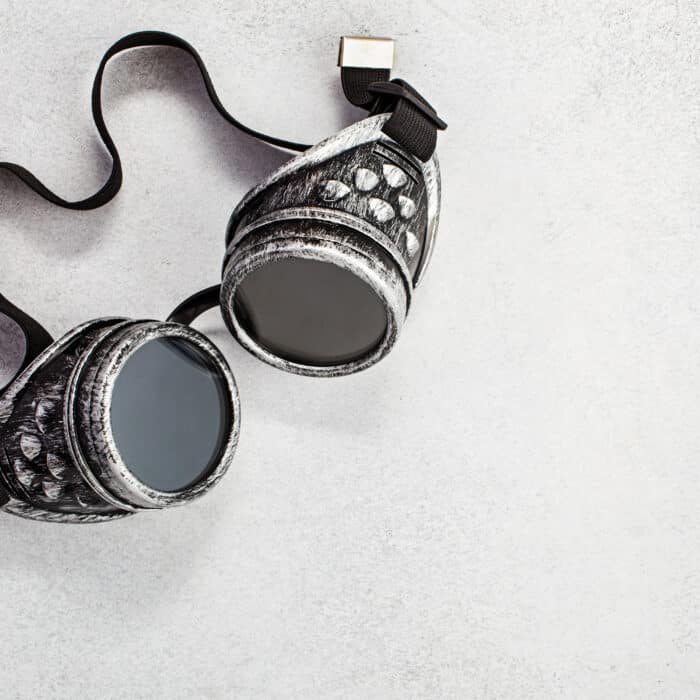 What To Look for in a Steampunk Goggles
When looking for steampunk goggles for your latest costume, or glasses reminiscent of goggles steampunk style for day-to-day wear, there are a few things you should consider:
ADDITIONAL ICONS

Even though goggles are a key symbol of steampunk, try to find goggles that hold additional iconography. You can often find compasses or cogs connected to the goggles.

STEAMSONA OF CHARACTER

Consider the personality of the steampunk character you are trying to create. What type of goggles would they wear and what functionality would they have.

OTHER STEAMPUNK ACCESSORIES

Will your goggles match up well with your other steampunk accessories? Look for a pair that will go well with the rest of your ensemble.

FUNCTIONALITY

Having gadgets attached to your goggles will make them look more interesting. If they can light up or have movable parts, you can slightly adjust your look throughout the day.

PRICE

Find a pair of goggles that look good but also match your budget.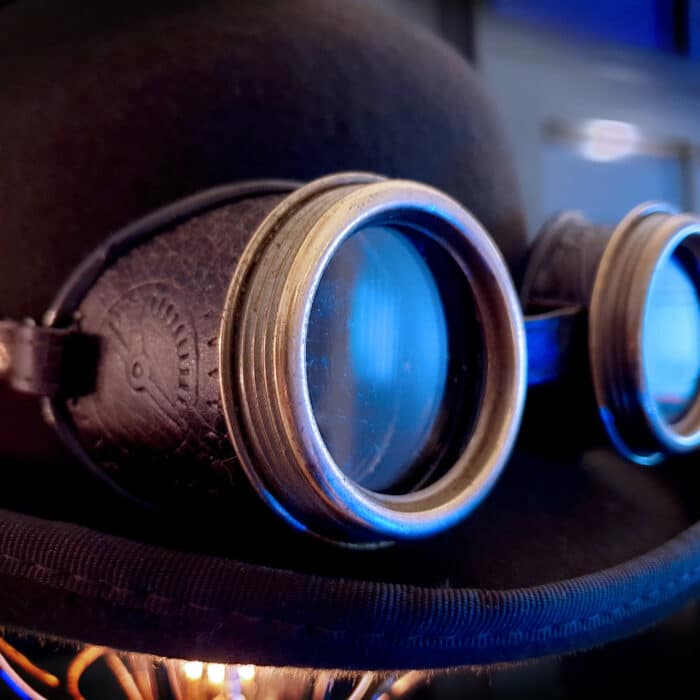 Once you have a basic understanding of what you are looking for when it comes to goggles steampunk style, you'll be able to track down a pair that is right for your wardrobe. Here is a list of the best steampunk goggles and goggle models that you can check out on your own: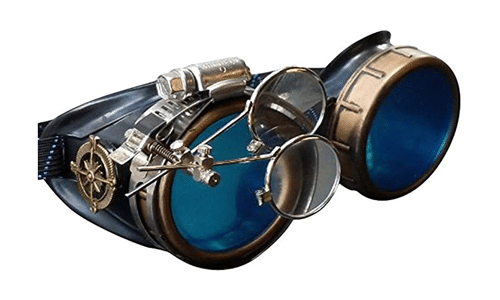 Victorian Style Goggles with Compass Design
This one is particularly unique for having an ocular loupe and compass design. Moreover, it's available in 16 different colors, so you can choose one that you feel resonates with your chosen steamsona. It also has a bit of a modernish sci-fi look, which makes it perfect for those whose character likes to dabble in scientific discoveries and inventions.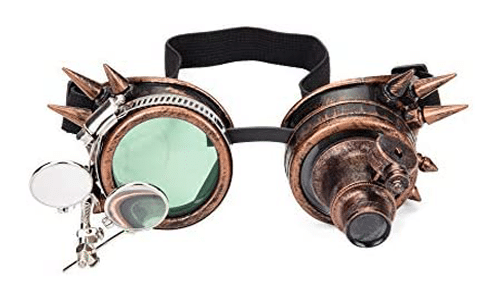 Kaleidoscope Glasses Rave Crystal Prism Goggles
Another great accessory you should consider is these charming crystal prism goggles, with spikes adorning the top of the frame. Perfect for scientists and creative types of steamsonas, this will help you look a little more eccentric (which is always best in our opinion).
Moreover, it comes with tinted glasses and a copper finish, making it suitable for almost any character. You can also select a different color of the lens, if you wish.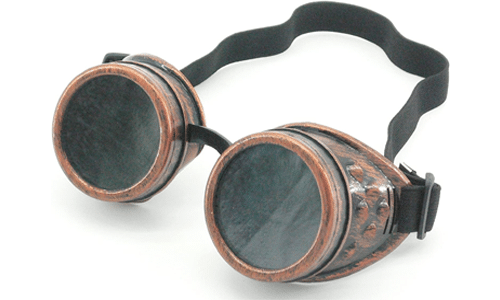 Sepia Cyber Welding Goggles
If you want a rather simple design for your goggles (for character accuracy or background purposes), then you should check out these steampunk welding goggles.
It has minimal details yet still captures the rustic, Victorian aesthetic, which makes it more versatile and flexible for any steampunk persona. Do note though that this should be only used for cosplay and shouldn't be worn in actual welding work.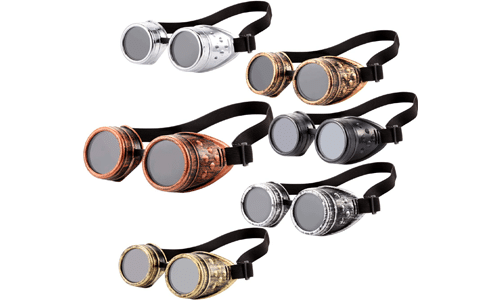 6 Pieces Retro Steampunk Goggles
Buying multiple costumes for a group? If you are looking to purchase multiple accessories for your friends, why not buy them in bulk? Purchasing a single pair of steampunk goggles could cost a little bit more, but getting them as a 6-in-1 package will save a lot.
It also comes in multiple colors. Therefore, if you cosplay a different steamsona every now and then, getting a set of goggles with various colors that give every character a unique feel is a great idea.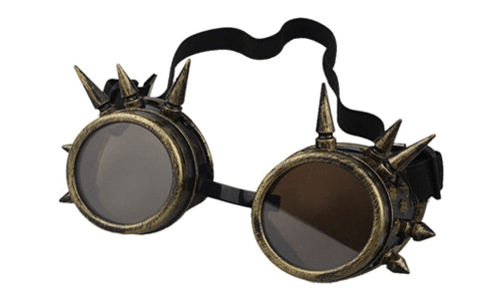 Spiked Victorian Goggles
This one is another great find for those who are going for a quirky look. Spikes are fantastic accessories that will help your steampunk goggles stand out. However, in comparison to the previous item on this list, these goggles isn't as elaborate in design. It's best for those who wants to add a pinch of unique flair to their steampunk character.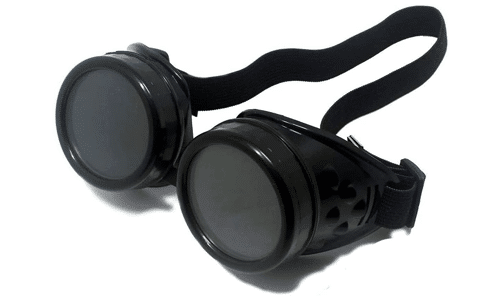 Vintage Goggles
This goggle also has minimal designs, which is great if you're going for a clean, sleek look. The lenses comes in different colors, including red for anyone with a villain-themed steamsona. This should be on your wardrobe list for the mad scientists, evil explorers, and antagonistic aviators out there.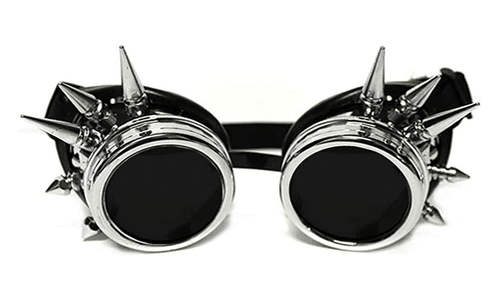 Rave Eyes Gothic Welder Goggles
Speaking of villainous characters (who are an interesting bunch, no doubt), here are steampunk goggles that would surely make your character stand out. Pair them with the dark-colored outfit (don't forget the cloak); you can pull off the ominous and foreboding aura.
Whether your character is a terrifying villain who wouldn't stop at anything to achieve their goals or a charismatic anti-hero whose motivations are something we all root for, these goggles should definitely be on the top of your list.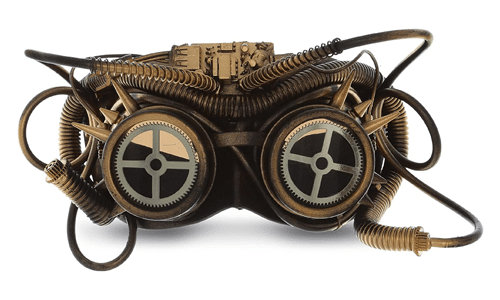 Metal Style Goggles
Want to level up your steampunk cosplay game to a notch? These stunning and beautifully-crafted metal goggles will surely grab your attention. With realistic wires, spikes, and gears, it gives off a true machinist vibe.
If you'd rather want to go for style than practicality, these goggles will be a great choice. It's genuinely one of the most eye-catching goggles on this list, pun intended.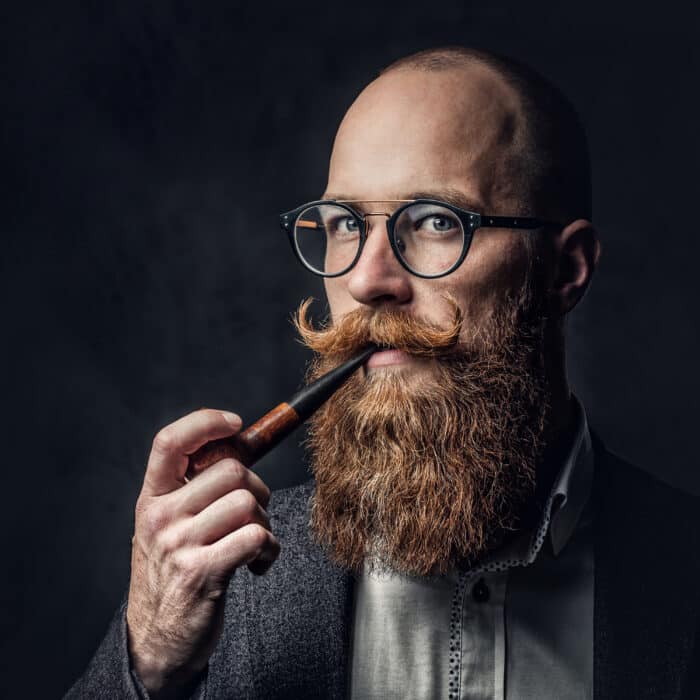 Best Steampunk Sunglasses
While goggles will fit the steampunk aesthetic more, they aren't very practical in modern life. If you want to keep a bit of the feel, but accessorize with something you can use, you may want to consider one of the following pairs of steampunk sunglasses: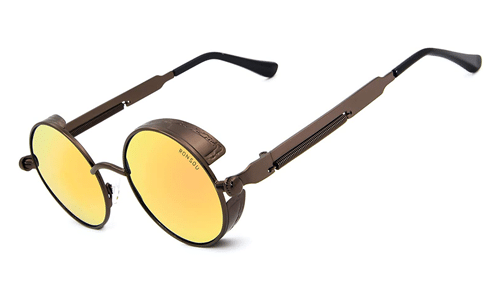 Retro Round Steampunk Glasses
More than just round-shaped sunglasses, these frames have a little extra detail that hints at the steampunk genre. They even come with a UV protection coating covering to protect your eyes.
The glasses reduce glare to help you focus on the sights and scenery around you, allowing you to take in the adventure without squinting your eyes or shading your face with your hands.
Flip-Up Steampunk Glasses
Doubling as blue-light lenses, these fashionable sunglasses will help you stand out. You can flip up the shaded portion of each lens for a little more functionality. Pair it with a top hat and a trench coat and you will look like you stepped out of a Steampunk novel.
The added benefit of these sunglasses is that they look modern enough to pair with your everyday clothing, allowing you to celebrate a bit of your cosplay in everyday life.
Tintent Polarized Steampunk Glasses With Side Shield
Aiming for a cool, enigmatic look? This sunglasses has that mysterious vibe which is fantastic if you want to retain a bit of your mysterious steamsona while living your day-to-day life. It comes in different colors, so you can choose whichever suits your taste.
Moreover, it's made from an impact-resistant polarized lens, so you don't have to worry about using it every day, even with the hustle and bustle of the modern world.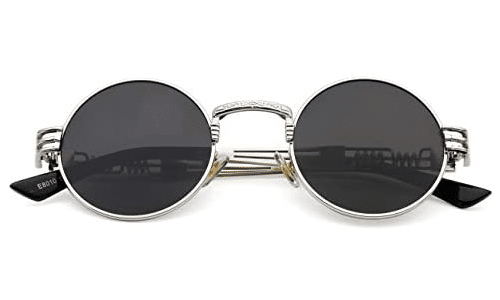 Round Steampunk Glasses
These steampunk sunglasses come in three frame colors: silver, black, and gold. But whichever you choose, it's the perfect choice for those who want stylish, yet comfortable and practical sunglasses with a bit of a retro vibe. If used daily, you won't feel out of place in the modern world. Meanwhile, it can still be a good addition to any steamsona costumes.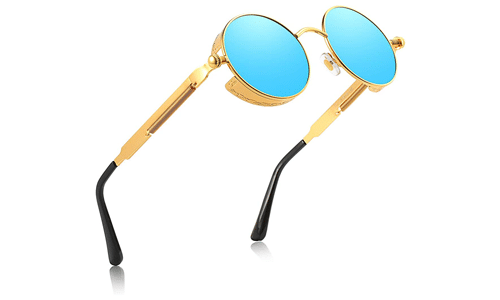 Polarized Metal Alloy Steampunk Glasses With Colored Glasses
If you want sunglasses that reflect your bright and cheery personality, you should definitely check out this one. It has tinted glasses which gives off a fun and quirky vibe, which adds a little charm and steampunk aura to your everyday wear.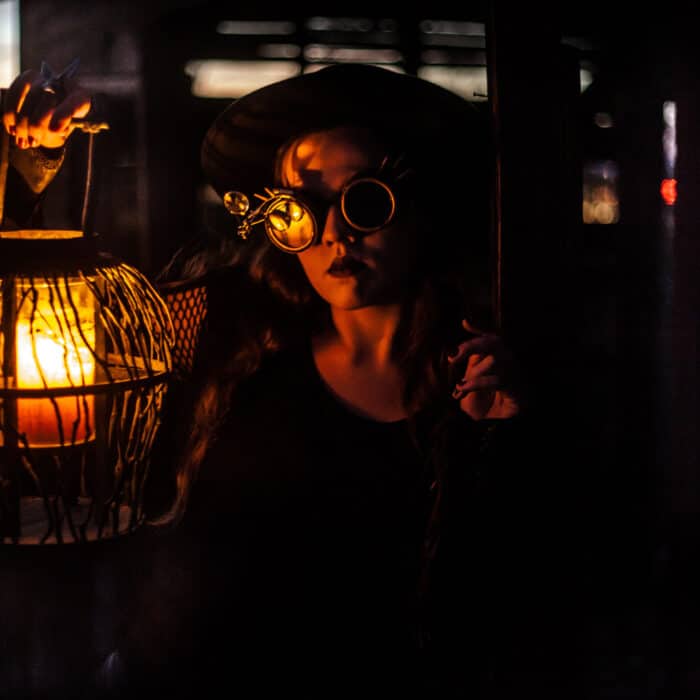 Frequently Asked Questions
What is the purpose of steampunk goggles?
From the 19th century to the beginning of the 20th, those that we call now "steampunk goggles" are used to protect the eyes during work or road travel.
Both men and women wore them in the past. However, nowadays, it's mainly used as an accessory to steampunk costume and have almost become an icon associated with the genre.
How do I get steampunk goggles?
You can easily get goggles steampunk style by purchasing them on various stores, including Amazon and Etsy. Browse the items we recommended above for affordable yet stylish goggles you can add to your steampunk collection.
Whether you're looking for steampunk goggles on your head or actual peepers to wear, you can find them here. Click the link to buy it straight from the sellers.
Why are goggles so popular in steampunk art and costuming?
Perhaps the simplest explanation would be that cinder goggles and the like were closely linked with the Victorian era, which is, in turn, the basis of much steampunk art.
However, the goggles we see nowadays are mostly for aesthetic purposes only. Designers have also decided to change some aspects of the original Victorian goggles to enhance them, such as adding extra accessories like compasses, spikes, and others.